What are the advantages of the new editor?
The editor ensures all emails are responsive by default.
The editor guarantees compatibility with over 90% of desktop, mobile and web clients.
The editor offers more control of your footer and header styling
The editor lets you configure elements to show/hide on mobile devices with the click of a button.
The new editor is the first step on a path toward more advanced features like A/B testing.
For which email clients do we guarantee compatibility?
Desktop
Mobile
Web Based Clients

Air Mail 2.0
Apple Mail 4
Apple Mail 5
Apple Mail 6
Apple Mail 7
Apple Mail 8
Apple Mail 9
Entourage 2004
Entourage 2008
IBM Notes 9
Lotus Notes 8
Lotus Notes 8.5
Outlook (all versions)
Thunderbird 3.0+
Windows Live Mail
Windows Mail

Android 2.3 - 4.2.x
Android 4.3+
Blackberry 5+
Daum.net app
Gmail app
Inbox app
iPhone 4 - 8 Plus
iPhone X
iPad (retina display too)
iPad Air
iPad Mini
iPad Pro
KindleFire 2.3
Nate app
Outlook App
Windows Phone 7.5
Windows Phone 8+

AOL Mail
Atmail Open
CitroMail.hu
Comcast
Daum.net
FreeMail.hu
Google Inbox
Gmail
GMX
G Suite
Libero.it
Mailbox.hu
Nate.com
Naver.com
Roundcube Webmail
Outlook.com
Office 365
Web.de
Yahoo! Mail
Mail.ru
Yandex Mail
How do I modify the HTML?
The Drag and Drop editor does not work directly with HTML or CSS. Emails are created and stored in an intermediate format and converted to HTML at the time of sending. This ensures that you can write an email once and never worry about updating it to work on the latest device or email client.
For those circumstances that require manually creating custom HTML emails, we have an HTML Only editor for advanced users.
With the February 2019 release, there is a Clone HTML button when working with a message. Advanced HTML Email Authors will be the only admins who see this button. Read details here.
Can I use a combination of HTML and the drag and drop elements?
No, you will not be able to switch between HTML and the drag and drop elements to create one message.
There is an HTML-only option if you are an Advanced HTML Email Author.
With the February 2019 release, there is a Clone HTML button when working with a message. Advanced HTML Email Authors will be the only admins who see this button. Read details here.
Can I use HTML to create a template?
No, you will not be able to use HTML to create a template. HTML will be used to create a new message.
Are tokens supported?
Tokens added to the template will populate. We strongly encourage you to incorporate the member field tokens you use today into the templates you build.
New Sender Tokens are being introduced so you can get more creative with your email design.

##Sender_Org## (Required)
##Sender_Address## (Required)
##Sender_Address_2##
##Sender_Country##
##Sender_City## (Required)
##Sender_State## (Required)
##Sender_Postal##

New tokens have been added that you can place in the URL field.
NOTE - these may not be used in the Pre-Header or Subject areas of Email Details.


##Unsubscribe## will be replaced with the word "Unsubscribe" hyperlinked with a unique URL for each recipient.

##Unsubscribe_URL## is another option but may require more steps in order to display more than the full unsubscribe URL.
##Webview## will become a view in browser link. We are making this change so you can have greater control over your header elements.
##TroubleViewingLink## is another option but will require more steps.
How will role-based Events and News work in the new tools?
The roles assigned when creating Events and News should be thought of as roles impacting website content and the experience of users when they visit your site.
All Dynamic Content in the message will show to every recipient.
A combination of message versioning, selecting specific Dynamic Content items, and assigning your Audience appropriately will allow you to deliver content that the appropriate people should see.
Segmented Campaigns was released in November 2019.
Which admins can access the Template Editor?
Super Admins can access the Template Editor by default.
If anyone else needs access, they need to be placed in the Email Template and Style Manager administrative right.
How do I lock a template?
Templates cannot be locked from the template builder user interface. We are considering adding this feature in the future.
By default, the only locked templates are those that are available to all Encompass customers or those built by iModules staff.
If you would like a template locked, provide Customer Support with the URL of your template home (to identify your site and community) and the name(s) of the template(s) you need locking.
How can I create a custom event/date Favorite?
Step-by-step instructions to create a custom event/date Favorite exist on this page. There are also short videos on the page to walk you through each step of the process.
What fonts are available?
At this time, the editor only supports fonts that are standard across email clients.
How do I provide feedback or report an issue?
To report an issue, please contact iModules Customer Support.
To provide product feedback, please visit the Product Portal.
Can I add dynamic content?
Yes, dynamic content can be added.
The Dynamic Content Style Manager will need to be utilized first so that styles are created.
Once styles exist, you can add the following items: RSS Feed, Events Feed, Event - select specific content, News Feed, News - select specific content.
Can I use a tablet to create my email templates?
No, you should plan on using a desktop or laptop to create your templates.
Can I copy/paste formatted text from Word into the new editor and have the formatting stripped off?
Yes, you can! There is a certain method you need to use.
You will not copy/paste with keyboard shortcuts directly from Word into an element. If you do, the formatting won't be stripped off.
You need to copy the content and then right-click inside of the element and choose "Paste". You will then be presented with the option to paste the content. The formatting will be stripped off if you follow this method.
How do I wrap text around an image?
There is a multi-step process you must follow in order to have text look like it is wrapping around an image.
Steps to create:
Add a text element that spans the full width of the email (not in a column element or anything like that).

Below that, add a box with a multi-column element in it that is set to two columns.

Drop a text element in one column and an image element in the other. You can decide the widths of the columns based on how wide you want the image to be. You'll want to make sure the amount of text lines about matches the height of the image to keep the "wrapping" feel.

Below the box with a column element, drop a text element like the first bullet point.
NOTE - you will need to adjust margins, padding, and spacing. Since the settings will vary based upon image sizes and the look you are going for, specific values cannot be provided.
How are Favorites arranged?
Favorites are arranged alphabetically.
Capitalization matters since capitalized items will be looked at and placed before lowercase items. See the sample image below: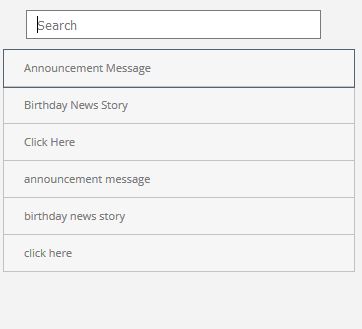 How can I link to a document?
Edit the element that presents the text editor menu bar.
Place your cursor where you want the link to appear. Don't highlight any text.
Use the Document Manager button.
Select the document and update the link text in the "Link Text" box of the Document Manager.
Click the Insert button.
How can I create a Social Follow Favorite?
Add a Box element.
Add a Column element into the Box. Depending on the number of social icons you need, you may need to add more columns. You can nest Column elements if you need more columns than what one Column element allows. You may want to set the Column element to not stack if they are to display inline on mobile.
Set the sizing for the columns or equalize them.
Add a Box element into the columns that need to display a social icon.
Add an Image element into the boxes that need to display a social icon. You may want to set the Image elements to "center".
Add images and set links as needed.
Select the Box and use the Favorite Element Manager to save this as a Favorite (if needed).
Sample Custom Social Follow:

How can I create indented text?
Use multiple text elements and place them one on top of the other.
For elements that need to be indented, utilize spacing on the left. The amount of spacing you use will be determined by how large of indent you would like to have.