Please note the product releases for the environments are scheduled as follows:
Australia= 2nd November, Wednesday Morning | U.S.= 3rd November Thursday Morning | Canada= 3rd November Thursday Morning
-------------------------------------------------------------------------------------
Product Enhancements
Email Reporting
Update Data on Dashboard Reporting Pages
On the Dashboard Reporting pages, added the Update Data button to allow users to pull fresh data onto the pages based on their needs. Also, added the Date and Time field next to the Update Data button, which displays the date and time of the updated data when users click the Update Data button.

Online Giving
Mastercard Standards for Recurring Payment Notification: Membership Auto-Renewals
To meet the previously announced Mastercard standards for recurring payments, we have set up a new recurring payment reminder email for membership auto-renewals. The reminder email is sent 7 days before the scheduled payment date.
The following are the system updates:
The system sends the reminder email 7 days before the scheduled auto-renewal date.
Selection of the Auto-renewal option activates the reminder email, which is sent to the primary email address collected on the form.
The Auto-renewal reminder email can be edited in the Recurring Billing area in the form properties.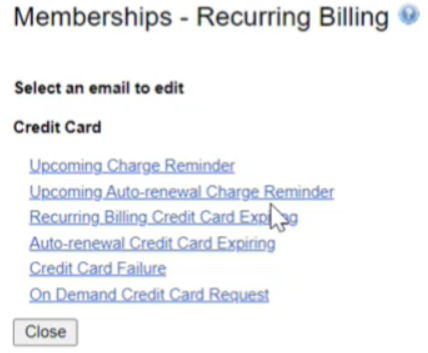 Resolution
Functional Area

Reference

Description

Foundation
NA

Publish to Facebook link was not allowing users to publish their page to Facebook after making a donation.

Now, the users can publish their page to Facebook. The users can enable the following options for Facebook publishing:

Enable Events
Enable Campaigns
Enable Memberships
Enable Profile
Enable Groups



Email Marketing
NA

When fields were deleted from a constituent information form by selecting the option 'This will only remove it from this form, not from the system' (Soft delete), the system was not recognizing the fields in the queries related to the segments making the segments invalid.

Now, when a field is deleted using the soft delete
option, the associated segments are not affected.

Foundation
NA

Found that the expanding and collapsing actions were not controllable by keyboard on the Lightning Giving form.

Updated the system and now, the users can perform the actions by clicking the spacebar on a keyboard.

Online Giving
NA

Post an Authorized.net transaction completion, Authorized.net sends a message to Encompass with a transaction ID. These transaction IDs were not set in the Encompass Database for record keeping and reporting.

Now, the system records the transaction IDs. The data is used in reports.