Please note that product releases are scheduled as followed by environment:

Australian = Monday morning | Canadian = Monday Evening | U.S. = Monday Evening

Product Enhancements
---
Online Giving
Scoreboards
Ambassador Challenges
The newest member of the Scoreboards family is finally here!! Now, for the first time you will be able to flag engaged constituents to be your ambassadors and provide them with a platform to champion your Give Day efforts through peer to peer fundraising, as well as provide them with the ability to create custom challenges in areas of interest to them.
Admin View - Landing Page

Ambassador View - Challenge Breakdown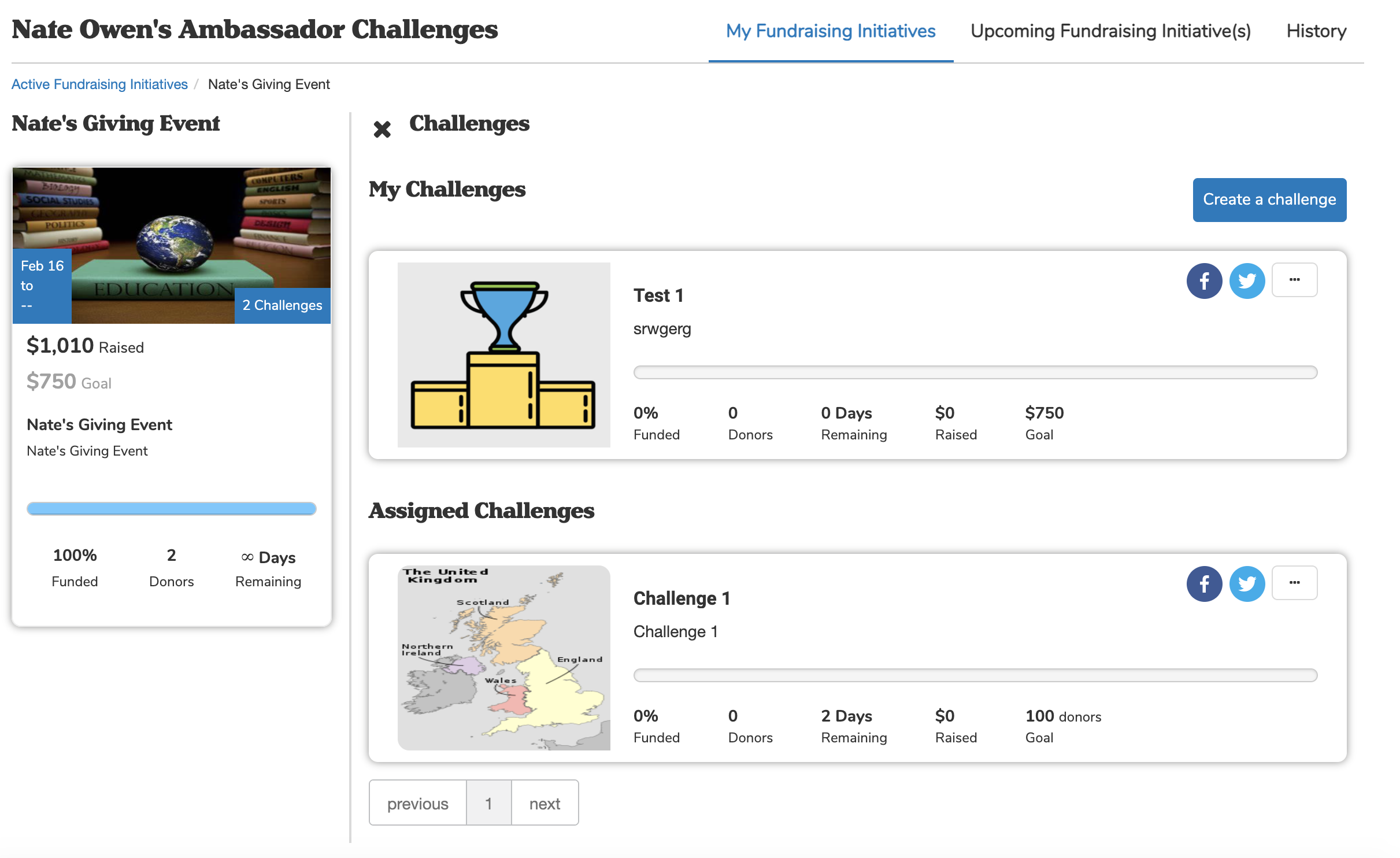 This module is included as part of the Scoreboards package, and will be available to all Scoreboards customers after the April deployment.
Giving Forms
Designation Import Tool
With the April release comes a feature for streamlining the creation of designations within Encompass.

A new "Import" option is now available on the Manage Designations page, which allows users to import up to 500 designations at a time by simply adding the designations to a .csv file and dragging and dropping that file into the Import page.
Upon selecting "Import" you will be taken to the import page which will provide you with a list of all fields needed for the import; including all general designation fields, as well as an up to date list of all designation IDs currently in use. The only required elements are the Name and External_DB_Value, allowing you to add as much or as little information as needed.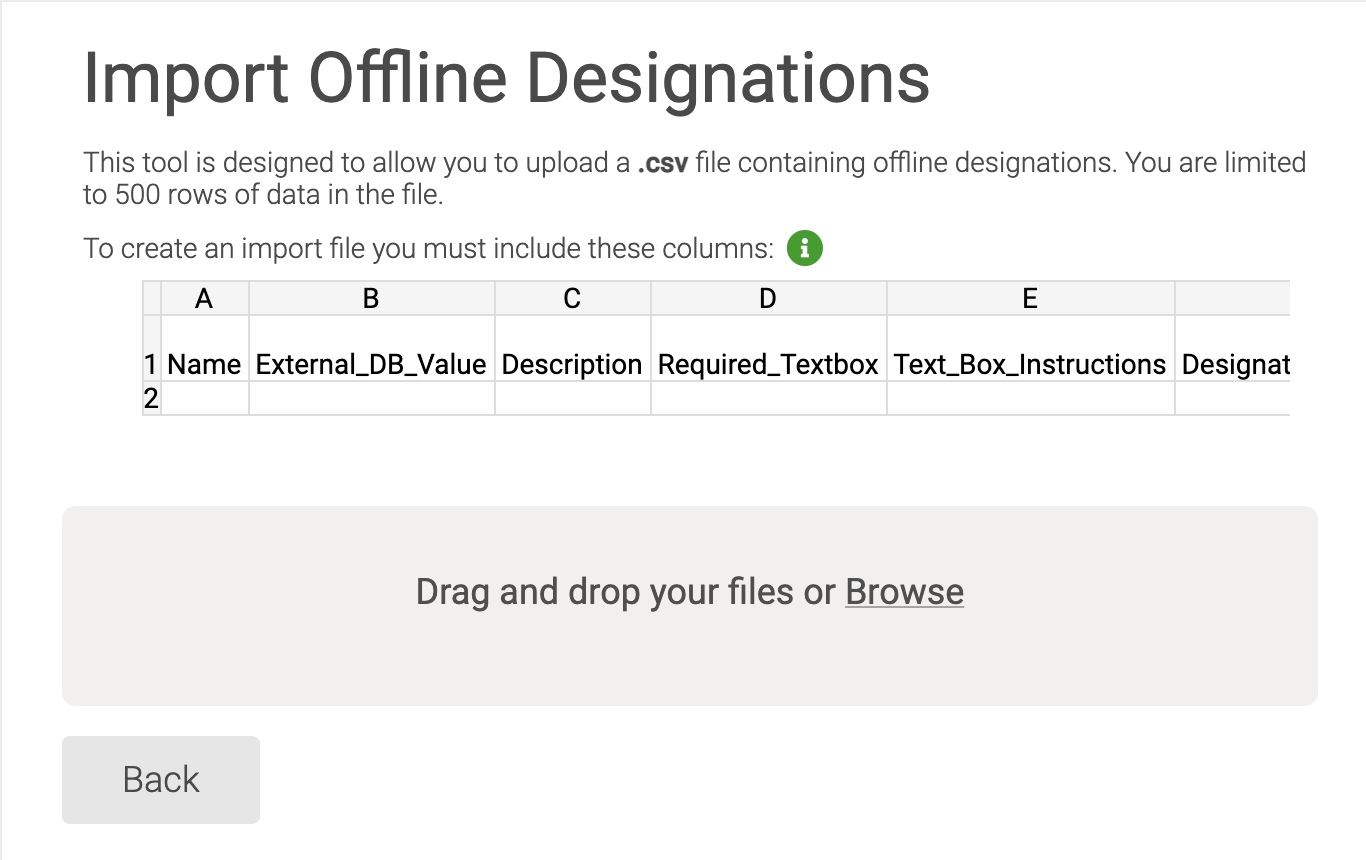 Email Marketing
Email Home
Performance
The system will now prevent an email to be released if it is within five minutes or less of the scheduled future send time. This allows the system time to process the email and provides an extra measure for a successful email send.
The following message will appear in the lower right hand corner if, upon release, the above criteria is met. "Please choose a scheduled date/time in the future greater than 5 minutes from now or send immediately."
Events
Attendee Check-in: Events with Activities
For Events with Activities, admins now have the ability to check registrants into an event without updating any activity counts providing a total unique event attendees count.

This will provide admins with a unique count of event attendees who have registered or walked up to an event even if they did not check into a specific activity.
SFTP Import
With the April release we will be adding an additional process time to our current import schedule. The Automated Import (SFTP) app currently runs at 5:25am and 7:25am CST. This picks up files and drops them into the import queue. Due to an increase in files, we will be adding an additional process time of 4:25am CST.
Defects
---
Email Marketing
Resolved an issue where the Grid View Sunset Message was still displaying for some customers.
Links - Fixed an issue if there is a space after a link, the email system did not provide an error. (Note: There is a future request to have the system automatically remove the space.)
Email Preview - Fixed an issue where the "From" address in the Email Preview modal was populating the "Reply To" address instead of the "From" address.
Segmented Campaign - Fixed an issue where the exception report for one version in a segmented campaign from the History page was displaying exceptions for all versions in the campaign.
Dynamic Content News Articles - Fixed an issue where dynamic content stopped pulling news articles set to publish and archive on the current date.
Dynamic Content Events - Fixed an issue where inactive and archived events are pulled into dynamic content.
Dynamic Content Events - Fixed an issue where event feeds did not pull the number of items specified when they existed for that listing type.
Scoreboards
Resolved an issue where any existing styling on a page was being over-ridden when a scoreboards module was being added to that page.
Events
Events within the Attendee Check-in will now open with a smart or curvy apostrophe in the name.
General Encompass
Updated redirect cookie rules to help resolve a "Too Many Redirects" error.
Resolved an issue where users were unable to login using the Google connect integration
Updated RSS module to resolve issue where valid urls were not being supported.
Fixed issue with [Amount Paid to Date] token showing incorrect amount in confirmation emails.