Please note that product releases are scheduled as followed by environment:

Australian = Monday morning | Canadian = Monday evening | U.S. = Monday evening

Product Enhancements
---
Notification Token Manager
Customized
tokens per Sub-community
A new option is now available in the "Notification Token Manager" to change notification tokens on a sub-community level. This will allow customers to send out the same confirmation email across sub-communities, but change the verbiage of the tokens when needed. The following tokens can be customized: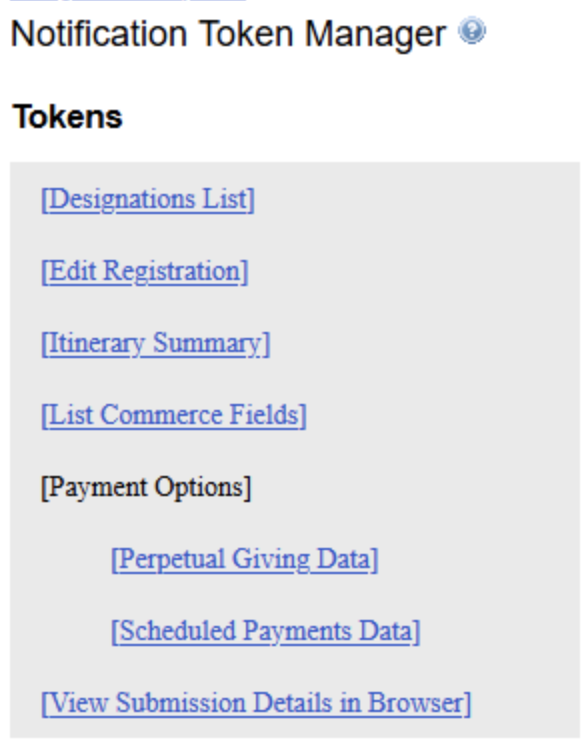 Events
WCAG
Changed the Alt text attached to the "Add to Calendar" button, so that it now reads "Add [Event Name] to Calendar", with [Event Name] reflecting the event it is linked to.
Defects
---
Commerce
Fixed an issue where accented letters are being displayed as &#233 type characters in Billing Information (ENC-41286, ADO: 1203708

)

Fixed an issue on the Designations Grid where the Date Updated column shows date added, not date updated (ENC-41611, ADO: 1205313)

Fixed an issue where skipped billing transactions were not displaying on donor roll (ADO: 1205075)
Login
Fixed an issue where "Reset password" was not requiring a value to be entered (ENC-41626, ADO: 1205311)

Fixed an issue where First Time Login was not generating confirmation emails upon completion (ENC-41265, ADO: 1205229)

Fixed an issue where users were able to complete the "Manage Card Details" form in Encompass for payments made through the Stripe hosted gateway. As the gateway is hosted this is managed by the gateway and not by Encompass. The Manage Card Details form has been updated so that it will not display if the customer has Stripe set as their primary gateway. The following message will be displayed instead(ENC-41469, ADO:1203890)

"The payment gateway currently in use (Stripe), updates all credit card changes (where the card has been lost, stolen or has expired) automatically, therefore this form is not needed. If, however, you wish to add a brand new payment method, then please contact the alumni office."
Web Services
Fixed an issue where billing fields that contained accented characters were not being returned correctly via the API (ENC-13244 , ADO: 1183303)
Class Notes
Fixed an issues where creating class notes was resulting in an error (ENC-41355, ADO: 1205190)
Events
Updated the

[Event Summary]

Token to reflect Canadian date formatting and display months in French when that sub community's culture settings are set to French-Canadian in Group Manager. (ENC-40130, ADO: 1205068)
Email
Fixed an issue where the superscript and subscript option on the email text menu in the editor were no longer displaying. (ADO: 1221366)