Please note that product releases are scheduled as followed by environment:

Australian = Monday morning | Canadian = Monday evening | U.S. = Monday evening

Product Enhancements
---
Email Marketing
Automated A/B Testing Campaigns - Now Available!
Do you know why your constituent chooses to open or not open your email?
By simply testing one variable of your email you can easily determine which one generates more opens and resonates more with your constituents. This small change can make a big difference on how your alumni respond to your emails.
A/B testing is the process of sending one variation of your campaign to a subset of your audience and a different variation to another subset, with the ultimate goal of working out which variation of the campaign garners the best results.
The new feature, Automated A/B Testing Campaign, has simplified this process by providing the following capabilities.
Guided Process: Create an easy to follow process to setup an A/B Testing Campaign
Variables: Select Subject Line, Pre-Header or From as your test variable
Test Duration: Select how long the test should run before the winning version is determined
Winner Determination Metric: The winner will be determined by Opens
Test Group - Randomize Audience: The system will randomly select recipients to be part of the test group. The test group will be split between the two versions.
Automatically Send to the Winner: The admin can determine if the winning version should automatically be sent to the remaining recipients or if they want to manually select.
Reporting: Allows you to see what is resonating with constituents by monitoring test results and overall email performance in one location. Easier to analyze the data.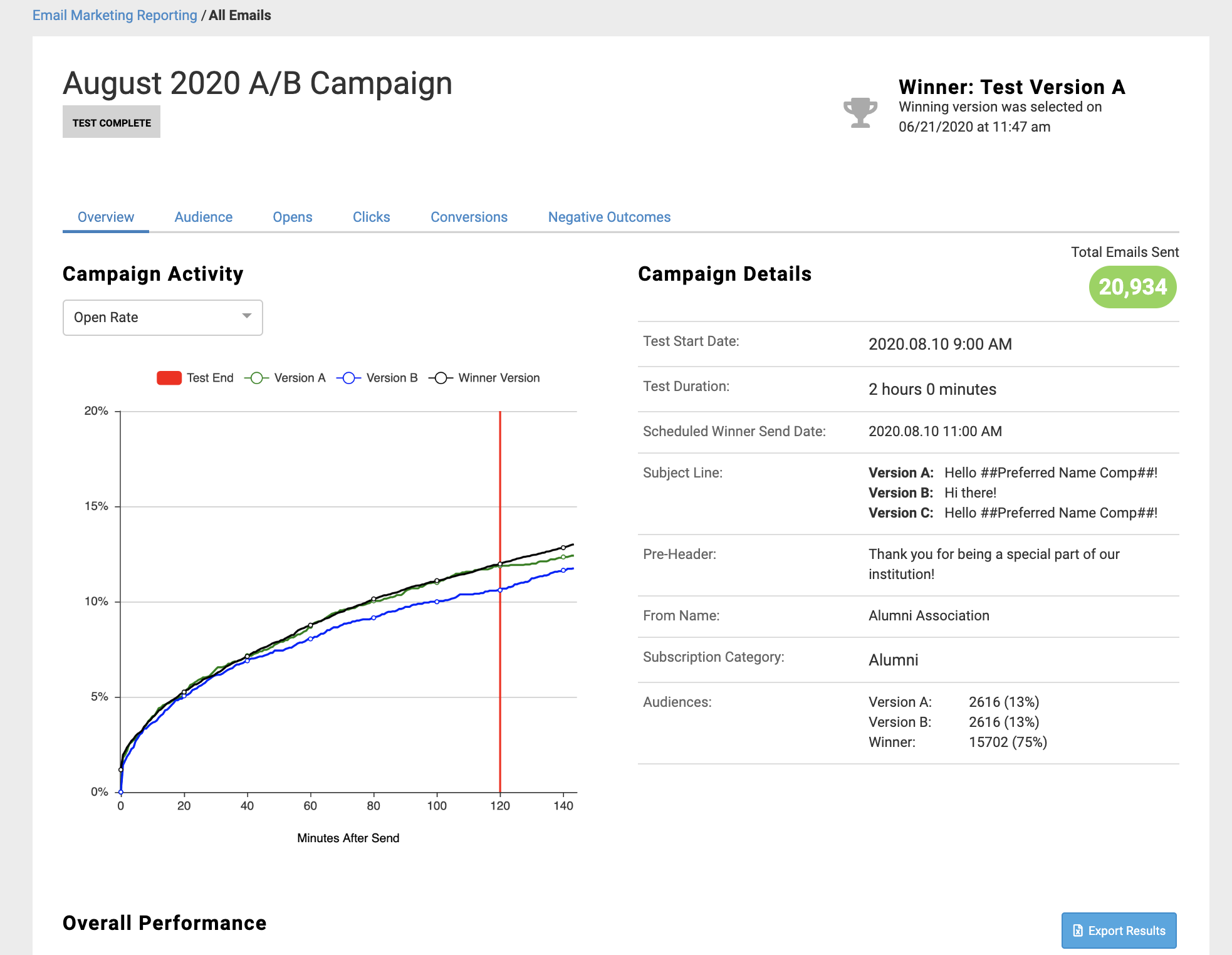 To learn more about this exciting new feature to email click here to check out our training sessions available to you and your staff.
Grid View Sunset
The Grid View option will no longer be available on Email Home.
Estimated Audience
Refreshing the estimated audience has now become more robust. You will see faster refresh times as well as automated refreshing based on various actions such as adding/removing an audience and Subscription Category updates. The primary focus was enhancing the Segmented Campaign experience when working with the estimated audience counts.
Segmented Campaign Rules
If all versions have an audience the estimated recipient count for the versions and total count will automatically refresh for the following actions.

Add an audience
Remove an audience
Re-prioritize versions
Toggle prioritization on/off
Delete a version
Change a Subscription Category

If at least one version does not have an audience then the estimated recipient counts will not display.
If at least one version does not have a Subscription Category then on auto or manual refresh the subscription modal appears.
Online Giving Reporting
GTE Report filters
Users now have the ability to filter on-demand GTE Reports by time (down to the hour), as well as designations. This will enable customers to export more specific transaction data, removing the need to make manual changes after the fact.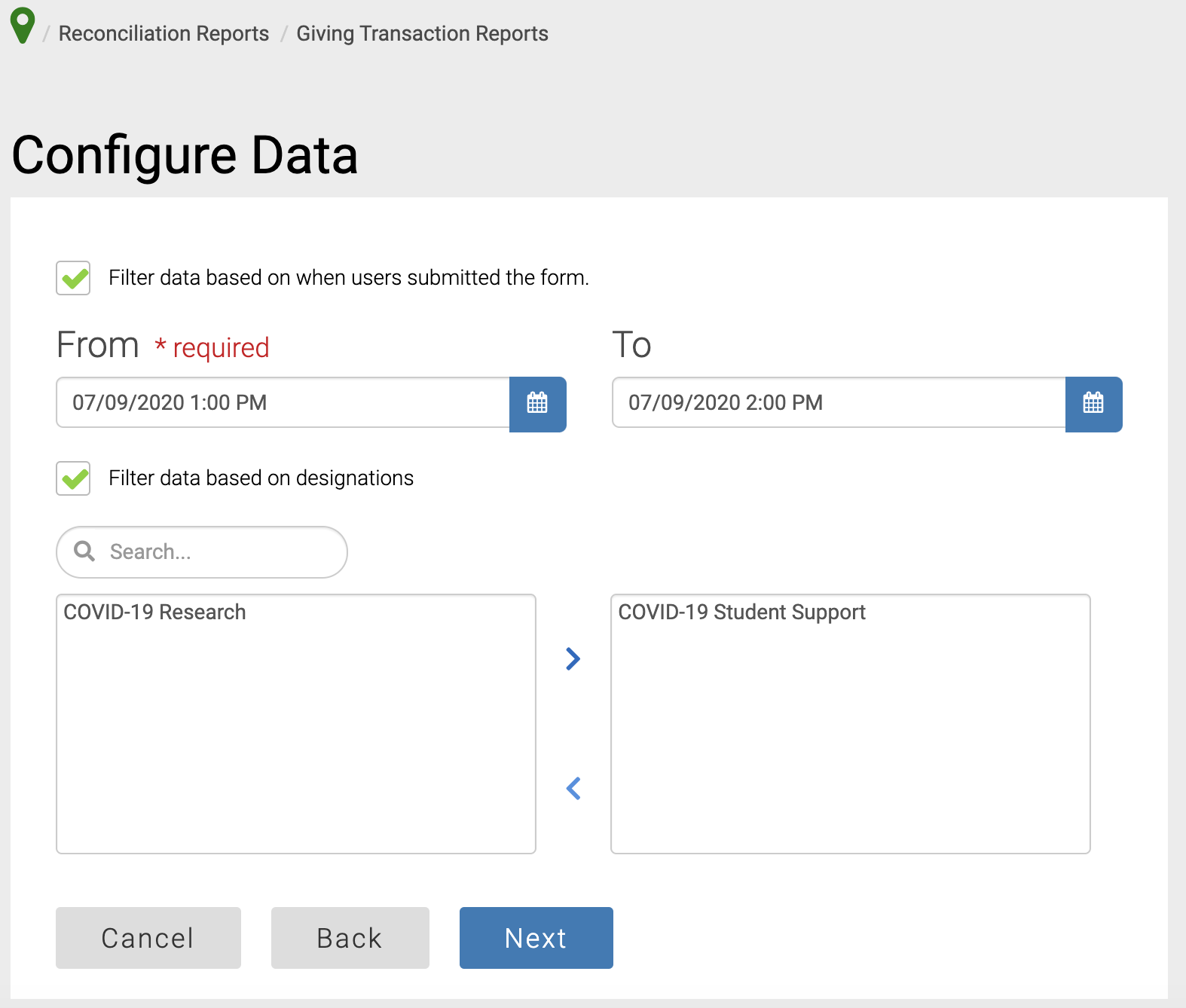 Please note this is currently available for on-demand reporting.
Events
Event Check-in module
With the August release, we will be activating the Event Check-in module for all customers using the Events module. We understand that in-person events are pretty scarce right now, but hopefully this will give you some time to jump in and test these awesome new features before you need them later this year.
The new module will allow you to check people in to events and instantly track that and report on it back in Encompass via a new attendance export.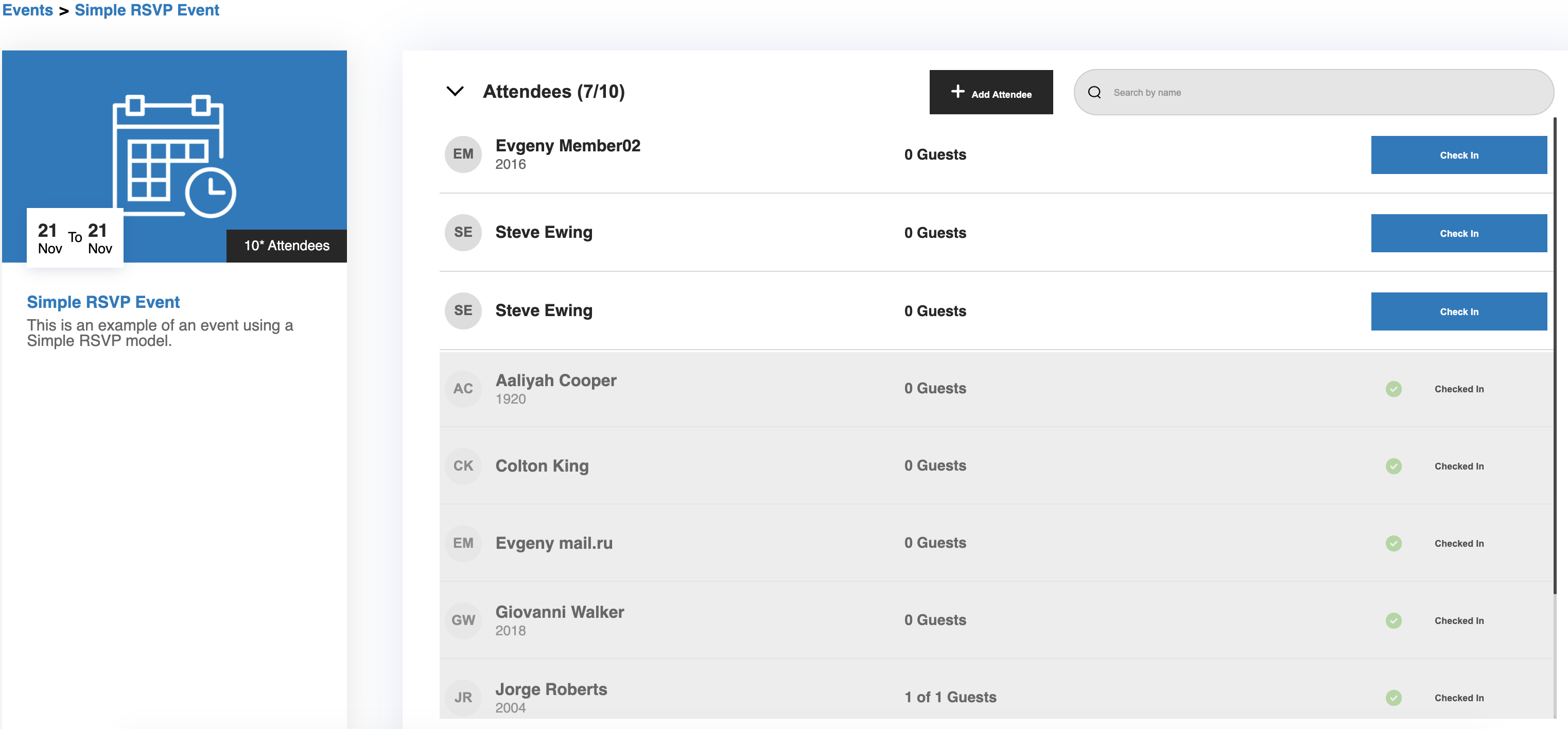 Our support center is full of great resources to help you jump right in here, and you can reserve a spot on one our upcoming training sessions here.
Defects
---
Content Management
Page Title Character Limit Error
We fixed an issue where the page title field would allow too many characters to be entered, resulting in an error upon saving. Now, when you hit the 100 character limit you cannot enter anymore (ENC-41289)
Tool icons are duplicated in listing
Fixed an issue where the icons generated by

[Tools Icons]

are appearing twice by each item in the listing when you use the calendar to advance the month (ENC-41000)
Events
Event Registrations
Fixed an issue

where it was not possible to edit event registration fields on an event that does not have registrations.(ENC-36302)
Event Activity order sort
Fixed an issue where

activities on an event lose their sort order when new activities are added or existing ones are edited (ENC-41183)
500 Error with custom event export
Fixed an issue where a

500 error was being thrown when attempting to run a custom event export for certain events (ENC-40938)
Event Guests on PDF export
Fixed an issue where the "Guest of [registrant name]" was not being included in the PDF export. (ENC-40465)
Adjustment Errors when disabling guests
Fixed an issue where

disabling the guest option on an event causes adjustments to error - you cannot unregister attendees (ENC-40472)
Login
Hidden values in Events
Fixed an issue where the hidden field value on Events were being added to every activity record, even if they do not select to attend that activity (ENC-39737)
Community
Profile View Limits
Fixed an issue with profile view limits. Now, w

hen profile view limit is reached, an error message specific to profile view limit being reached is displayed, not a general error message. (ENC-30306
Memberships
Report filters
Fixed an issue where membership reporting is returning no results when using expiration date filters (ENC-40482)
Forms
Email field required labels
Fixed an issue where marking the email field as required on a form does not put an asterisk behind the Email and Confirm Email labels (ENC-41328)
Member tracking
Fixed an issue where on the member tracking tab the form ID is correct but the form name is often not correct (ENC-40324)
Reset Password Email
Fixed an issue where regardless of what name tokens are used, password reset emails are displaying blank values even if sent to records that have name information (ENC-40581)
Online Giving
Confirmation receipt emails displaying incorrect values
Fixed an issue where the next payment amount/total amount remaining on scheduled payments was calculating incorrectly for confirmation emails (ENC-39787)
Email Marketing
Email Home Pagination
Fixed an issue where the pagination was not displaying correctly on the Email Home Queued Page (ENC-40164)
Wrong send date for segmented campaigns
Fixed an issue where the send date for segmented campaigns was not display as 12/31/1969. (ENC-41299)