Please note that product releases are scheduled as followed by environment:

Canadian = Monday evening | U.S. = Monday evening | Australian = Tuesday morning CST

Product Enhancements
---
Decision Analytics
Metrics Overview
The Metrics Overview section is no longer coming soon! Watch these metrics also change as you interact with different time frames and population cohorts. Very cool stats to capture at a glance.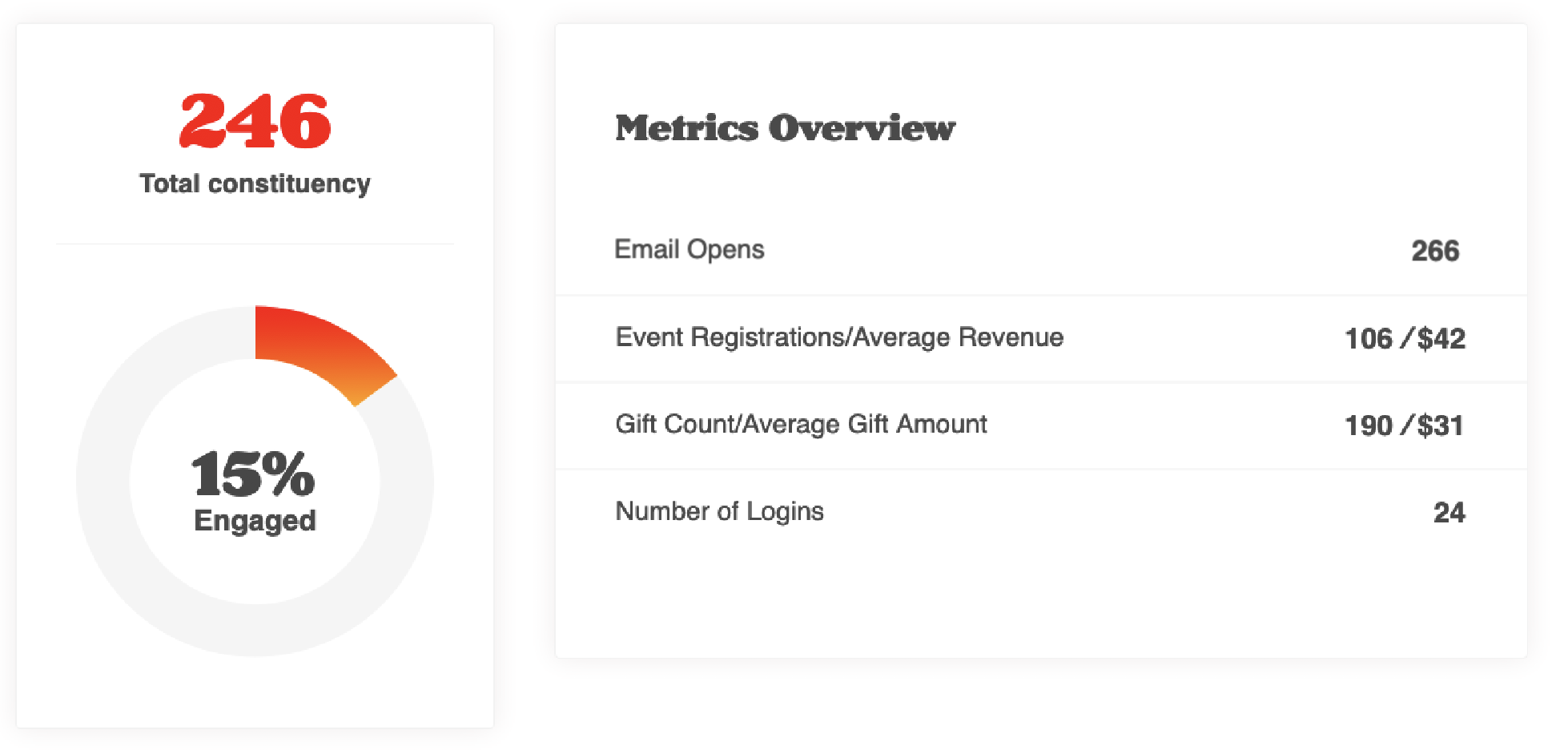 Class Year Field

Population filter has a new friend that allows you to score your entire Alumni base. This one goes out to our early adopters who thought of this very awesome addition to this drop down.

New Administrative Right

Another shout out to our early adopters and product portal participants who wanted to see another admin right, besides Super, that will grant admins access to the dashboard.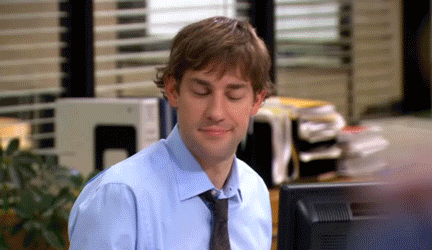 For customers who would like to grant staff access to the dashboard without giving up the keys to the entire data castle (aka Super Admin), feel free to assign the new admin right of Engagement Metrics Admin to those applicable staff and club volunteers.
Offline Data Support
Last but not least... welcome Volunteerism to the Dimension family. Now you can upload offline data for all of your volunteers to get an even truer picture of engagement.

Simply provide a file of Constituent IDs and Start and End Dates to capture this activity in the dashboard. We will pull Class Year from those constituent records where applicable so feel free to use the filter criteria to change engagement snapshots from different class years and time.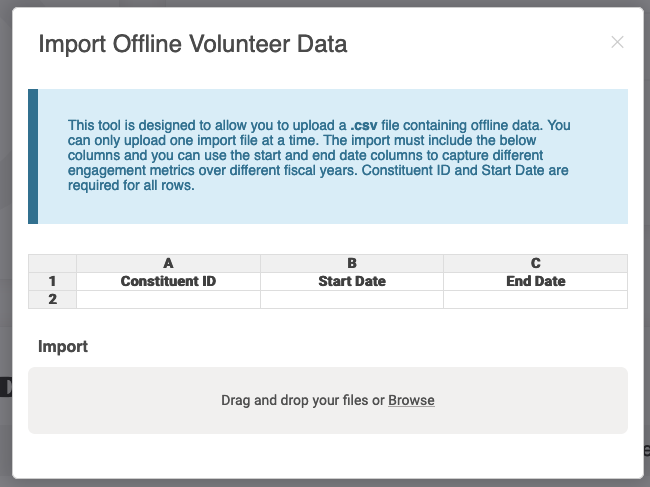 Email Reporting
Email availability now goes back to 1/1/2018? What!

The rolling 550 day time frame of email availability has been changed and you are now able to search and view email drill down metrics from 1/1/2018 to present. This should reduce the amount of emails unavailable as emails sent prior to 1/1/2018 should be accessible through the Legacy Reporting system. The default date range will still be the previous 30 days but by clearing out the From date field will automatically change the search to capture all of 2018.
Email names in Negative Outcomes grid are now hyperlinked
The email name column in the Negative Outcomes column for All Negative Outcomes and for Segmented campaign roll ups are now hyperlinked allowing users to jump directly to the specific message detail.

Did we have prioritization turned on?
Now you are able to easily to tell if prioritization was turned on for a segmented campaign by viewing the campaign within email reporting. On the campaign rollup page, if prioritization was used then the version summaries will be sorted in priority order instead of the sent time and users will see "Prioritized" at the top of the table. This will allow you to confirm whether you had that feature turned on when you released the campaign and view the version order.

E-Commerce Partners
CVV now required for all constituent facing transactions

In an effort to make Encompass as compliant as possible and to reduce the amount of fraudulent charges our customers experience, we now require the CVV code to be entered for all constituent facing transactions, through all Gateways. We have not made any changes to the requirements of the Admin side of billing forms, so any mail-in donations can still be manually entered by admins through the admin side if a CVV code is not present. Please note that this does not change the CVV requirements in your Gateway configuration - if you have configured your Gateway to require CVV, then CVV will be required for both constituent and admin forms. For more information on this change, please visit our support page here.
Defects
---
Email Reporting
Updated no results found verbiage so it no longer displays by default (ENC-39056)
Corrected opens percent calculation within export. (ENC-39402)
Fixed click reporting counts to match drill down report. (ENC-38805)
Email Marketing
Emails failing to send due to the AuthKey token included in links. A warning message will now display the links which include the AuthKey Tokens. (ENC-38674, ENC-38173)
Fixed the issue where the Sendgrid tracking token (##SENDGRIDOPENTRACKING##) was visible in View in Browser, BCC's and Pre header. (ENC-38714)
Encompass
Fixed an issue where a "Reset password" link was only sending to the highest Member ID with a matching email, not the specific Member record that requested it. (ENC-38928)