Please note that product releases are scheduled as followed by environment:

Australian = Tuesday morning | Canadian = Tuesday evening | U.S. = Tuesday evening

Product Enhancements
---
Encompass Decision Analytics
Engagement Metrics Dashboard
Welcome a new addition to the Encompass family! For the first time you will be able to see how constituents are engaging across all facets of the platform. For enterprise sites, we will be calculating all GID activity within that GID.... this means you can measure sub activity! Located in the main nav and available to Super Admins under Decision Analytics. Now let's get down to the fun stuff!
Total engagement % is the cat's meow.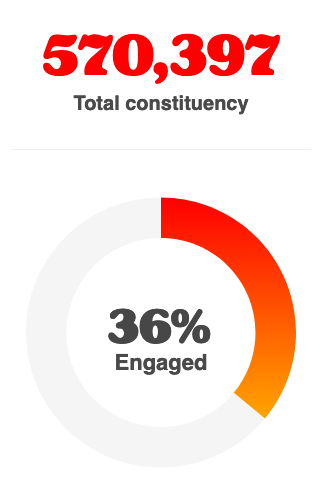 In addition to overall calculations, we will be scoring various engagement dimensions (Events, Giving, Membership, and Online Usage) from July 1, 2018 through June 30, 2019. We have not forgotten about Email which we know is a BIG contributor to your metrics. Never fear... Email will be added early in Q1 to both the dimension and overall engagement.
The Engagement Metrics Dashboard enables you and your staff to gain greater insights in certain segments via the class year drop down which also includes an option to score engagement across All Records (including non-members) and Missing Class Year Value records. Be sure to dive into those class year records where you may already have a gut feeling on how engaged these constituents are.
aaaaannd that is the cat's pajamas.

These scores are calculated based off the existing population engaged versus not engaged. The following dimensions are tracking these actions.
Emails: Email engagement is calculated based off of opens during the specified time frame. (Joining the dashboard in early Q1)
Events: Event engagement is calculated off of registrations made during the specified time frame. If registration for the record is changed to false, they will no longer be counted as engaged.
Giving: Giving engagement is calculated based off of gifts made during the specified time frame.
Membership: Membership engagement is calculated based off of any "current" memberships during the specified time frame.
Online Usage: Online engagement is calculated based off logins, pre-pop, and profile updates made during the specified time frame. Please note, we will be adding general form submissions to this calculation in an upcoming release.

NOTE: We have excluded admin records for the following Dimensions - Events, Giving, Membership, and Online Usage.
We're excited to see how you use the Engagement Metrics Dashboard! annnd GO!
Email Reporting
Email metrics available for 550 days
Email data will be available for 550 days (18 months). This includes the results on the All Email page and drilldown metrics. A dynamic date has also been added allowing users to easily see the earliest date available in reporting. This will display in the blue help box at the top.

Version Rollup Metrics
Segmented campaigns with recurring sends are now rolled up by version to allow you to see the total performance of those versions within the campaign. A rollup of all versions will display at the campaign performance page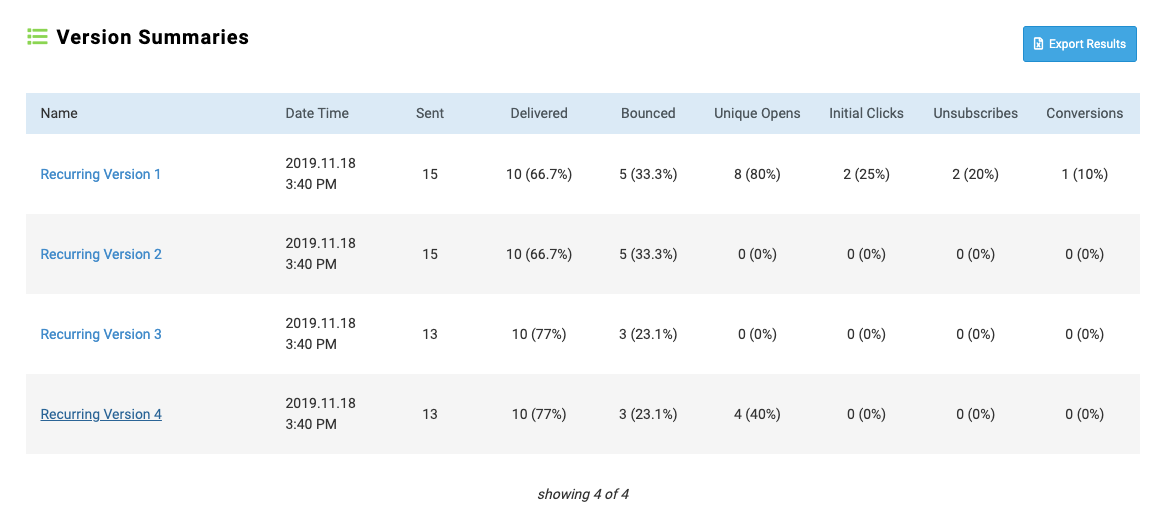 A new rollup page showing the metrics for each individual send of the version is now available by clicking on the version under the Version Summaries table.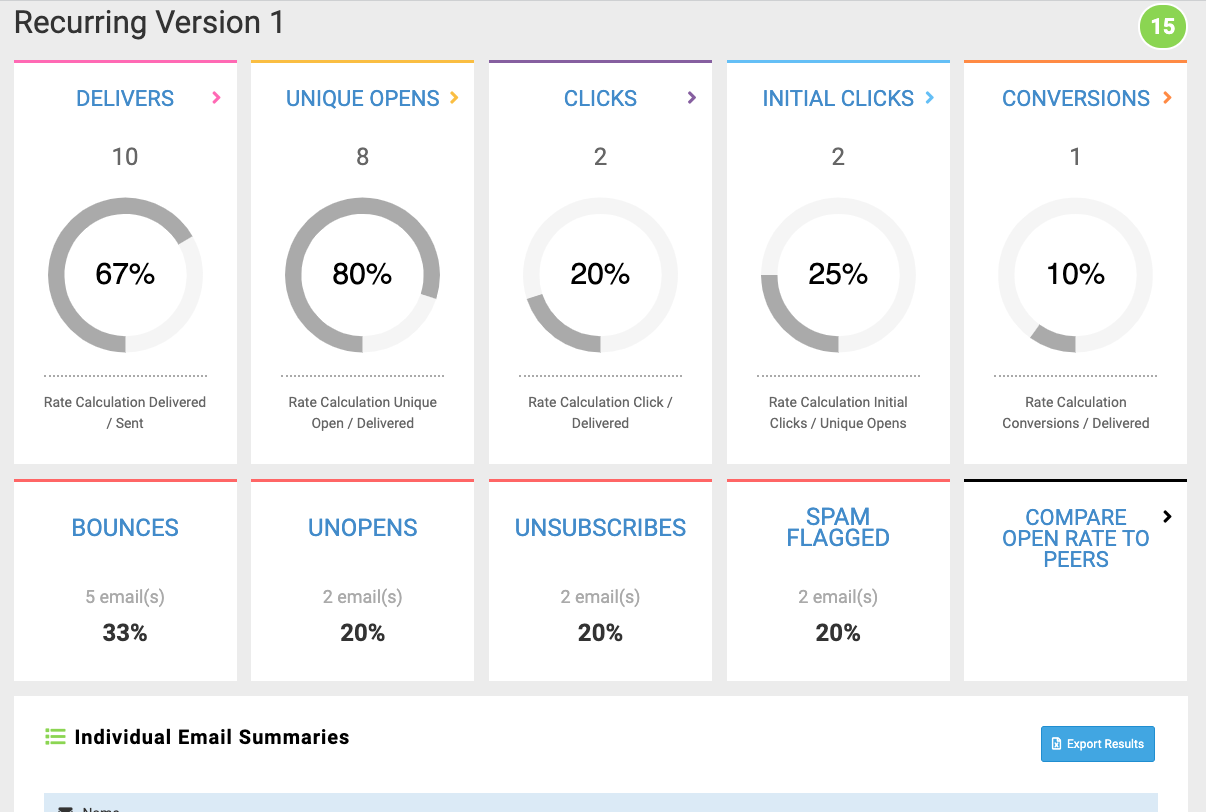 Updated Unsubscribe Opt Out Column
To help make it easier to view the unsubscribe action taken by a recipient, we have consolidated the Opt-Out Type and Category columns into one "Opted Out Of" column. This should make it easier to see whether a recipient opted out of the community or out of a specific category.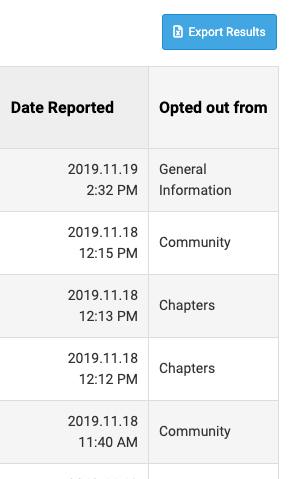 Email Marketing
Notification Email - Successful and Unsuccessful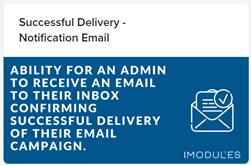 The Notification Email option allows you to have specific email addresses receive a notification email on the successful or unsuccessful send of an email marketing communication. This is available at the global level for the community. Note: The ability to identify per message will be available in a future release.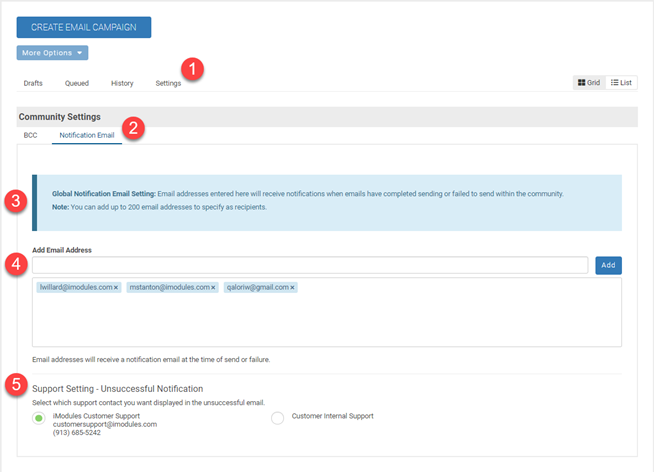 In order to set up this feature, go to Email Home > Settings Tab > Notification Email Tab.
Email addresses entered here will receive notifications when emails have completed sending or failed to send within the community.
You can add up to 200 email addresses to specify as recipients.
You add multiple emails at one time if they are separated by commas.
Support Setting - when the notification email is sent due to an unsuccessful send, you can set the support contact you want to include in your email.
Successful Email Notification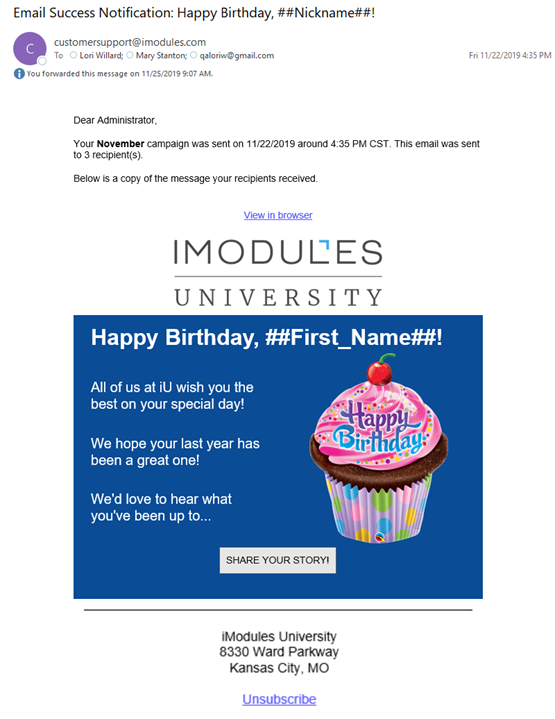 Unsuccessful Email Notification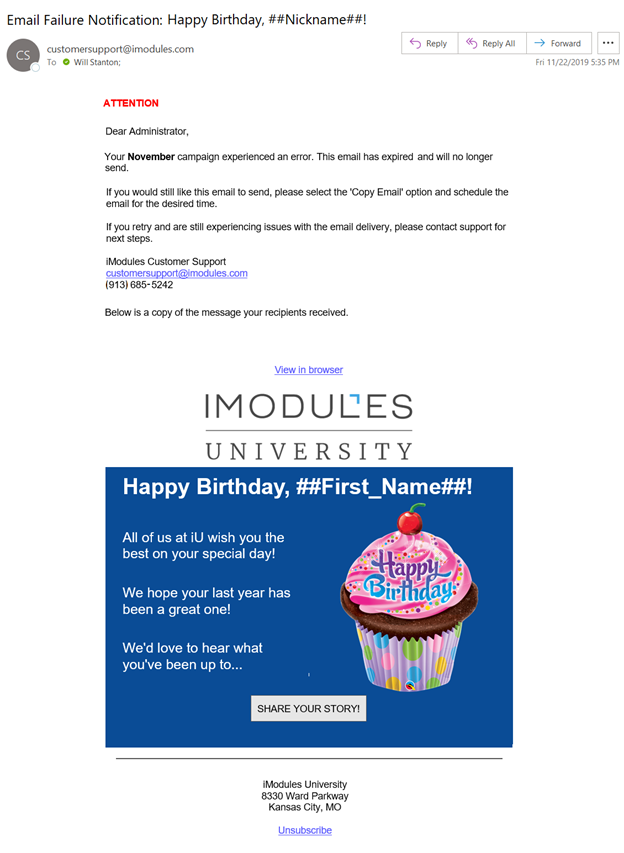 Document Manager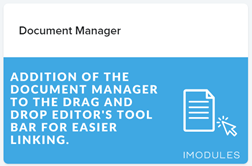 Document Manager is now available in the Email and Template Editors. You can find this feature on the Text Editor tool bar.
In order to insert a link to a document
Place your cursor in the text element where you would like to insert the link (Do not highlight text)

Select Document Manager

Select the file you wish to link (Note: The filename will display as the link name)
To rename the link:

Type the new name in the "Link Text" in the document manager or
If you selected insert you can right click on the link and select "Edit Link"



Encompass
WCAG Updates
Adjusted the css on the profile page so that the colors are within the specified contrast range for WCAG (4.5:1)
Added validators to show error messages at the field level and not just aggregate at the top of a page.
New designation view created to comply with WCAG standards: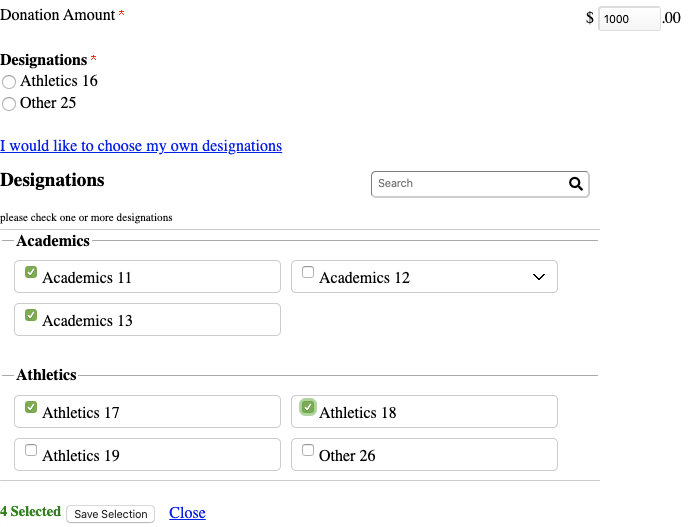 Designations no longer appear in a pop-up modal
"View All funds" option is now a link as opposed to a radio button
Designations open at bottom of section, not in pop-up modal
All other behavior remains the same as before
Please note if you wish to switch to this new Designations view then please reach out to your CSM to get more information.
If you would like to receive a copy of our VPAT document then please reach out to your CSM and one can be provided.
Scoreboards
Regional Maps

Improvement for the map where you can select specific states to display versus the entire country. Have fun challenging different states to a friendly competition to get filled in by all of your constituents.
Great for customers who predominately have constituents living in certain states of the country. This change is for the US Map.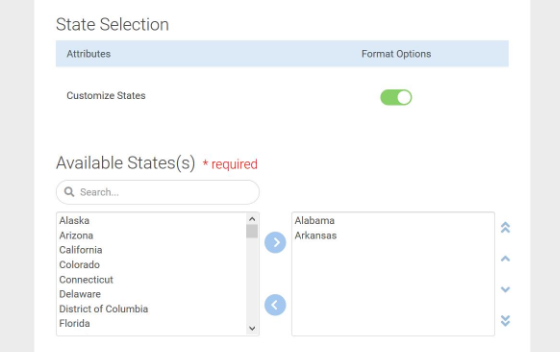 Defects
---
Email Marketing
Fixed the issue where updating email details should not change already sent emails. (ENC-37467)
Fixed the issue where Hyperlinks with the special characters of #, / and [ ] were being URL encoded. (ENC-35996)
Fixed the issue where hitting enter when renaming a segmented campaign adds <br> tag. (ENC-35996)
Email Reporting
Updated Cross Email Metric rate calculations to display as a total percent vs. displaying average percentages. (ENC-38817)
Updated recently deployed export with missing columns (ENC-38692).
Fixed an issue with the Screenshot Camera icon where it wasn't capturing images. Note: This technology is not compatible with Internet Explorer or Microsoft Edge. (ENC-38673)
Encompass
Fixed an issue where hitting enter on any step of a billing form would disable buttons. You will now see a page reload THEN it will advance to the next step or submit transaction depending where you are at on the form. (ENC-38800)