Please note that product releases are scheduled as followed by environment:

Australian = Monday morning | Canadian = Monday evening | U.S. = Monday evening

Product Enhancements
---
Email Marketing
Sub-Community BCC is here... you voted on Product Portal and we listened!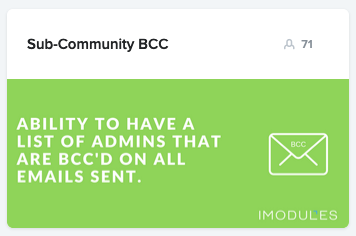 With 75 votes and over 170 insights submitted we have brought the ability to BCC your staff and friends on email communications you send out.   Including both an option to receive a BCC on release of an email as well as when the communication officially sends.
Each GID can have it's own series of emails that receive BCC on those communications.  You can find this new Setting option on Email Home where you can easily manage these recipients.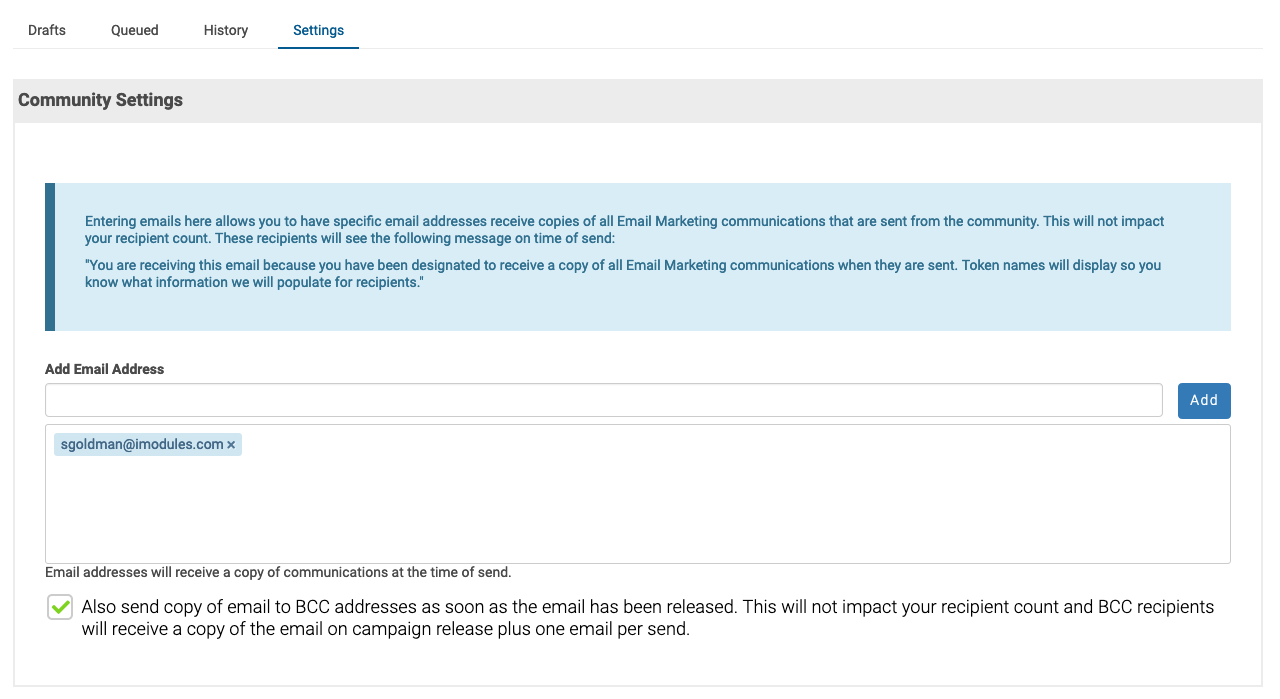 For BCC recipients a message will display at the top of the email indicating they have been designated to receive copies on release or send.  Below is an example of this message:

 NOTE: For sites that already had BCC recipients established, we have scripted in those same recipients for the new BCC option.  This includes all GIDs in your site and we were so happy to help with this lift.  Enjoy!
Email Reporting
Unopened and Bounces
Bounces no longer count in unopened metrics nor will these records display in the drill down.  How can your constituents choose to not open these emails if they never received the email communication? 
Combined View of all Deployed Emails at GID=1
Now at GID=1 you can apply the "Display metrics for all sub-communities" checkbox to view all communications regardless of the community it was sent from.  These metrics will reflect on the Opens by Device, Cross Email Metrics and allow export of these communications within the specified date range.  We have also added a GID column to the end of the export where you can easily determine which sub-community the emails were sent from.   Enjoy this new power at GID=1 and all the time you save by not having to pull this export in each community. 
Scoreboards
Donor Roll
We are pleased to welcome Designations to Donor Roll.  Designations will automatically be brought in to display for each donor.  You can customize this verbiage (i.e. Sabrina Goldman donated $50 to Athletics).  Supporting multiple designations will render on their own row for each donor.  We hope that you enjoy this new addition and stay tuned for followup work that will add this opt in for designations to the form.   This option will not be enabled on existing donor rolls but admins can quickly change this by going into the settings.
Encompass
Regenerate Confirmation Emails
Yes, you read that correctly...with this release you now have the ability to regenerate confirmation emails that fail to send successfully the first time. This functionality has been added in the form of a new option in the cog on the submissions grid.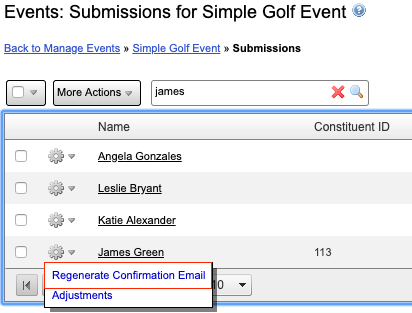 Selecting this will take you to the Final page of the submission. Here you can check the "Send confirmation Email to..." boxes and "Finish". New confirmation emails will be sent out immediately. It's as simple as that!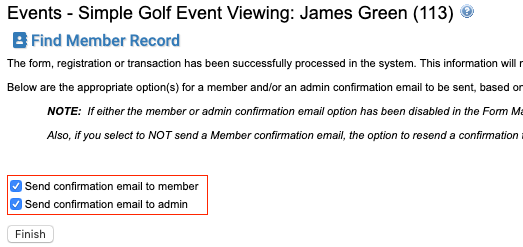 WCAG 2.0 Compliance
Over the following months we will be wrapping up our WCAG 2.0 Compliance items. With this release the following items were addressed:
Added "Remove" header to advanced designations.
Added text to legend in advanced designation Radio Button fieldset
For Class Notes, wrapped a fieldset around the date posted fields on the class notes search and added a legend.
For job postings and classifieds, "Date Posted" is marked as a legend in a fieldset, with the first text field labeled "From"
Added aria-current attribute to the currently selected navigation tab in class notes
Added alt text to profile/directory photo
Added aria-current attribute to the current page selected in the NEW directory
In Profile, step/category title now appears before the edit button for the step/category
Added javascript to add aria-checked attribute to radio button options
Defects
---
Email Marketing
Dynamic Content - Events & Events
Event feeds will now use the event start date when listed in chronological order. We were previously using the event's display date which was a big nope, nope, nope. (ENC-37592)
Our news feed recently fell in love with Lorem Ipsum and despite what articles your admins set to display for news, it would not let go of Lorem Ipsum.  We recently resolved this and now your news is free to see other articles and will display the correct content.  (ENC-37641)
Bounce Report
Bye bye deferred and don't come back! The bounce report will now exclude deferred rows so that your admins can pull useful metrics without manipulating the file.  (ENC-37280) 
Encompass
Fixed an issue where opt out from member to member emails was opting out the sender as opposed to the recipient. (ENC-35692)
Updated iCal to recognize Australian Central Standard Time (UTC+09:30) correctly. (ENC-33078)
Fixed an issue where password reset links were sometimes using incorrect first and last names when an email was linked to multiple member records. (ENC-23138)
When adding images to the recurring billing emails, we are now resolving image paths to use the appropriate domain, which generates the image correctly upon opening. (ENC-20755)
Addressed an issue where special characters were not displaying for designations and designation descriptions in the modal window when hovering over the name. (ENC-30666)
Events
Issue has been fixed where admins and users were unable to add values to a date field when editing a user's submission with guests. (ENC-38104)
Commerce Error Resolution
Additional logging was added around Payflow Pro timeout responses to more accurately display commerce errors. (ENC-38062)