Please note that product releases are scheduled as followed by environment:

Australian = Monday morning | Canadian = Monday evening | U.S. = Monday evening

Product Enhancements
---
Email Marketing
Email Home
Refreshed the New Message Details to help give your new admins some direction on decisions they are making when filling out this page.  Includes a new * Required for release for fields that don't need values to start an email but will need something when you plan to send it.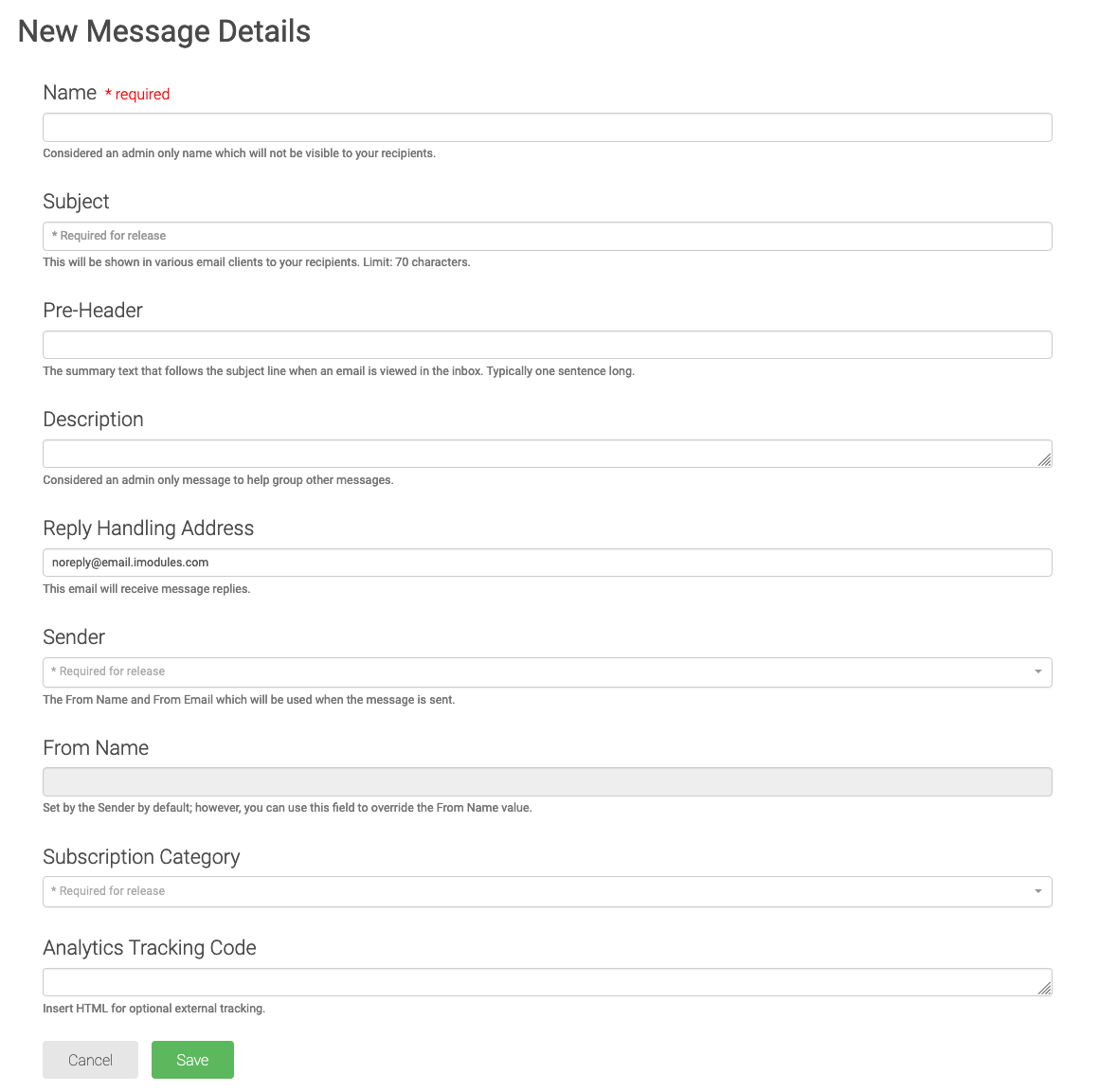 Release Button 
Release button will now always be active; however, if you have an email that is missing any required message details we will tell you which email is the offender and why it cannot be released.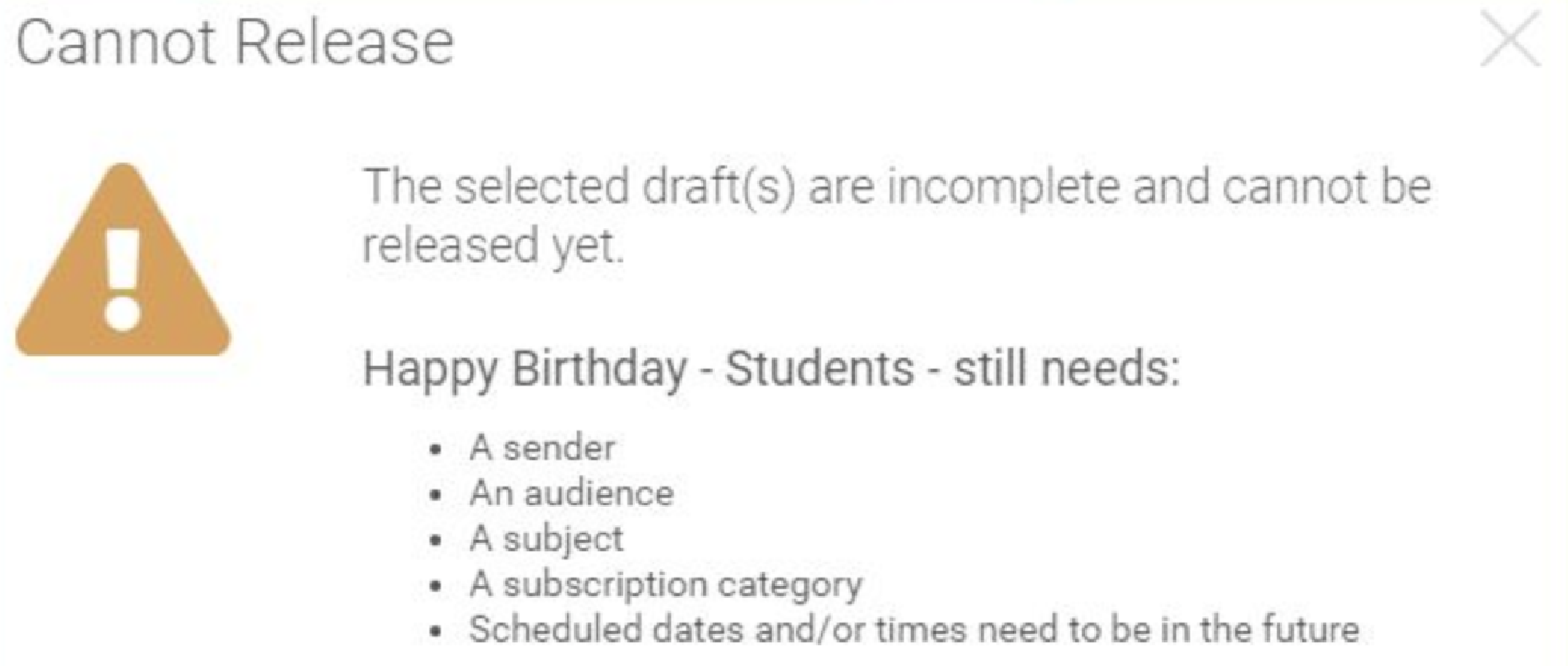 Sender Identities - previously released on April 19th
It is time for spring cleaning in Sender Identities and we are happy to report that your admins will be able to remove outdated or no longer relevant Sender Identities. If you copy/reuse an email that has a deleted Sender, we will not copy over those details for Sender or From Name.
CSV of IDs - previously released on April 19th
Introduced some checks and balances here to help validate file uploads so that you can find out what may be wrong with your file on assignment versus after an email is sent.  To summarize these awesome improvements:
Ensure that your file has only one header.
On file upload, we will perform a match on your constituent IDs and provide a correct count of valid constituent IDs out of invalid constituent IDs.
Invalid files will display as red during the assignment and you will be notified that we were unable to match any records to IDs in your file.
Email Marketing Reporting
Roll-up Recurring Drill Downs - Now available!
Enjoy seeing how all of your recurring emails performed together.  Explore different drill-downs and discover your recipients last activity or in other views what they may have done with this email of all time.
Export Results for Deployed Emails
New columns have been added give our customers greater insight into all the drill down metrics and their percentages associated to an email campaign. The highlighted sections below are the new columns that have been added to help identify additional drill down metrics you would not have been able to previously export.

emailName
subjectLine
sentCount
scheduledDateTimestamp
delivered
deliveredPercent
bounced
bouncedPercent
opens
opensPercent
uniqueOpens
uniqueOpensPercent
clicks
clicksPercent
uniqueClicks
uniqueClicksPercent
initialClicks
initialClicksPercent
conversions
conversionsPercent
unsubscribes
unsubscribesPercent
spamReport
spamReportPercent
Encompass
Payment Gateways
Upgrades have been made to our commerce processing system to reduce the number of transaction timeouts and fatal errors. A new Admin "Error Resolution" page is now available for Early Adopters, which will highlight any fatal errors which occur during a Payflow Pro Gateway transaction, allowing the admin to take any action as needed to resolve the issue. This "Error Resolution" page will only be available to customers using Payflow Pro as a payment Gateway. 
Prevent re-activating expired payment methods
Recurring Payments will be disabled (without the ability to re-enable them) on a per-row basis if they meet the following criteria:
Last Updated is more than 18 month past and credit card is expired
User cancels their PayPal billing agreement
Populate PayPal transactions with value of "UNK"
When pulling gift information through the Web Services API, all PayPal transactions are now populated with the Credit Card type value "UNK". This is to allow for better integration with other CRM systems.
For users integrating with Ellucian through the connector, please reach out to your Ellucian contact and work with them to add a new value in tms_credit_card to account for this change.
Defects
---
Email Marketing
Email Delivery
Reduced the likelihood of a recurring email sending 2x in one day when pulled back to drafts.
Emails "Stuck" in Queued
Addressed niche scenarios where successful sends were appearing as stuck-in-Queued.