We are always looking for ways to grow and develop our customer offerings and one area that we are focusing on is advancing our ability to gain customer feedback regarding enhancement requests. We launched a Product Portal that will help us gain your feedback in a whole new way. The Product Portal allows you to submit enhancement requests, vote on enhancements that are currently under consideration, and gain insight into what is moving through to production.
At this time, we are taking enhancement requests for Email Marketing and Events. Other areas will be added in the future.
Submit an enhancement
Click the Submit Idea button in the upper right.


Provide a description in the area provided.


Rate how important this idea is to you.


Provide your email address.


Click the Submit button.
NOTE - you will need to confirm your email address using the automated email that is sent to you.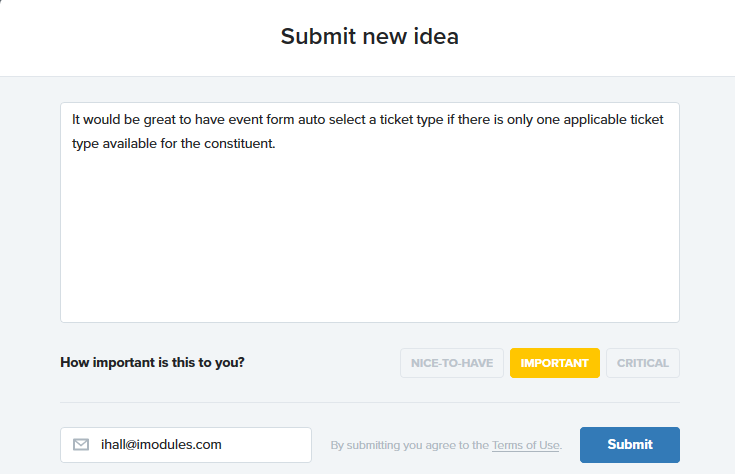 See what is in progress
Click In Progress in the top menu area.




There are cards for each item that you can click on to get details.
See what has launched
Click Launched in the top menu area.




There are cards for each item that you can click on to get details.
FAQs
Q: Do I have to create an account?
A: No. You simply need to start interacting. Once you have submitted your email address, the Product Portal will send you an email that contains a link to confirm your address. After confirming your email address, you will be logged in on that browser and can continue interacting in the Product Portal.
Q: Should I vote on everything that I want or should I pick key areas of interest?
A: When it comes to voting, a targeted approach might be best. For example, if you vote on everything under consideration for email, it will raise all of them an even percent vs if you picked the one that was most important to you.
We do recommend that you submit as many insights as you want using the Submit Idea button.
Q: How many votes does my institution get per idea card?
A: Each institution receives 2 votes per idea card. While as many as you would like from your institution can submit feedback, only two will be counted as votes.
Q: How do I vote for an idea?
A: When you interact with a card and mark the importance level, this will ultimately translate into a vote for your institution.
Steps to mark the importance:
Click on an idea card.




If you want to vote for this item, mark an importance level.




Provide details.


Click Submit.
Q: What does the person icon in the upper right of each card mean?
A: This person indicates how many people have interacted with a card. This person does not indicate the amount of votes. While they are often correlated, there are times when interactions/feedback are higher on a card, but not due to increased voting.