Getting Started
From the Email Home Drafts area, you will see an option to Add Audience.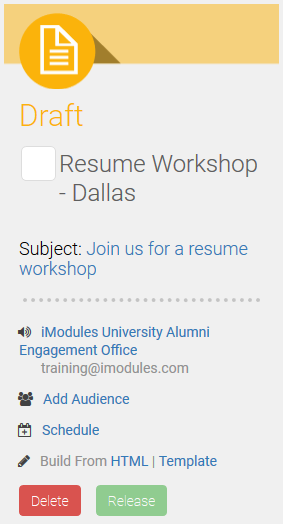 Add Audience
Click Add Audience.
CSV of IDs
Click Add CSV of IDs.




Browse to find the CSV file and select it. The system will match to the IDs provided. No new records will be created.


NOTE - You will need to put a header in cell A1. The system will ignore the value in A1.

NOTE - Only one column of ID numbers is allowed.

NOTE - The cap is 500,000 IDs per file.

NOTE - The file name for each CSV file needs to be unique.

The added file(s) will display in the box.




Click Save.
Segment
NOTE - if there aren't any Segments displaying in the search/dropdown, please work with Lists and Segments (requires a special administrative right unless you are a Superadmin).
 Use the Segment search/dropdown to select the Segment you want to use.




Click the Add button.


The Segment will be added to the selection box.




Click Save.
Making Changes
Once an Audience has been set up for a message, the Draft card wording will change.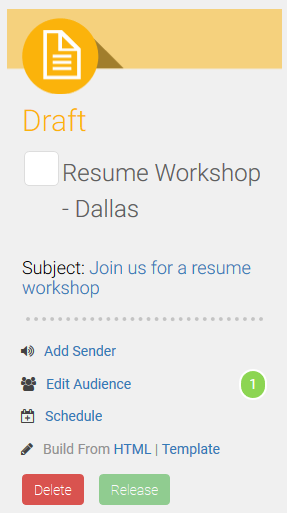 Clicking on Edit Audience will move you back to the Add Audience area.