Email Home allows administrators to start, edit, and schedule messages. Email Home houses drafts, released, and sent messages.
Accessing
From the Email menu, choose Email Home from the far right column/panel.
Create New Email
The Create New Email button will be used to start a new message.
Email Details
You will be prompted for Email Details once a new message is started. After the message is saved, clickable items on the Draft card (Sender and Subject) will move you into the details to make changes.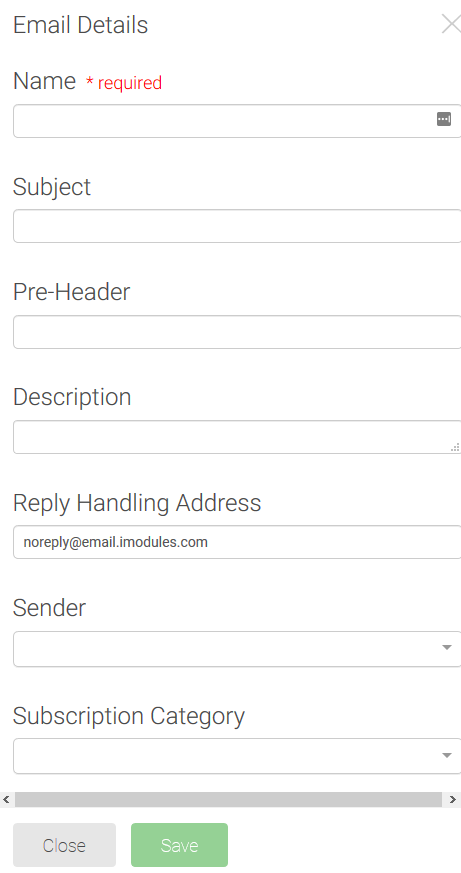 Name - will be used on the Email Calendar, Reporting, Bounce Reporting, drafts, released, and sent messages. It should be considered an admin only name since your recipients never see it.
Subject - will be shown to your recipients, so it should be user friendly.
NOTE - limited to 70 characters.
NOTE - cannot contain the Webview token or Unsubscribe token.
Pre-Header - enter the Pre-Header that you want your recipients to see.
NOTE - cannot contain the Webview token or Unsubscribe token.
Description - is for internal use only. It should be used to describe the message in case you have similar messages.
Reply Handling Address - enter the email address that should receive message replies, including out of office replies. By default, the reply address will be noreply@email.imodules.com.
Sender - the Sender Identities for the site/GID you are working in will be available. The From Name and From Email set in the Sender Identity you select will be used when the message is sent.
Subscription Category - select the Email Category that this message needs to be associated with.
Click Save to save the new message.
Draft Emails
Once an email message is started, a Draft card will be created and it will display on the Drafts tab. There are several actions you can take.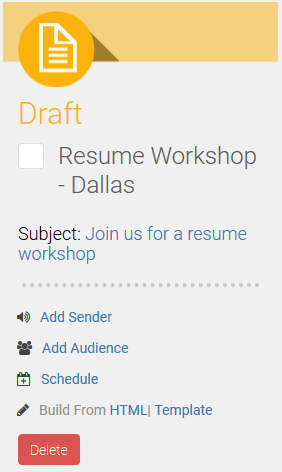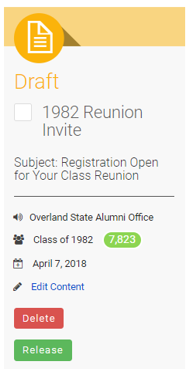 Subject - clicking on the Subject will move you to the Email Details so you can edit any of the details.
Add Sender or the Sender Name- clicking on Add Sender or the Sender Name will move you to the Email Details so you can select a Sender or edit other details.
Add Audience or Edit Audience - clicking on the Audience link will move you to the Assign Audience area where you will be able to select previously created Lists and Segments or upload an ID CSV file.
Schedule or the date(s) shown - clicking on Schedule will move you to the scheduling area so you can determine when you want your message sent as well as the frequency.
Build from HTML | Template or Edit Content- clicking on HTML (dependent upon administrative rights) will allow you to work with an empty box for HTML. Clicking Template will allow you to select the template you want to use for the message and then edit the content. Edit Content will be shown after you make the HTML or Template decision.
Release - the Release button is active after all required steps are complete.
More Options
Check a box by the Email Name. Multiple boxes can be checked.


Click the More Options button.
Delete
Click Delete.


Confirm or cancel when you see the confirmation window.
NOTE: once a message is deleted, it cannot be restored.
Copy/Reuse
Click Copy/Reuse.


A new draft card will be added that is a copy of the message that the box was checked for.
Queued Emails
Once an email has been released, the email card will move to the Queued tab. It will then appear on a Queued card.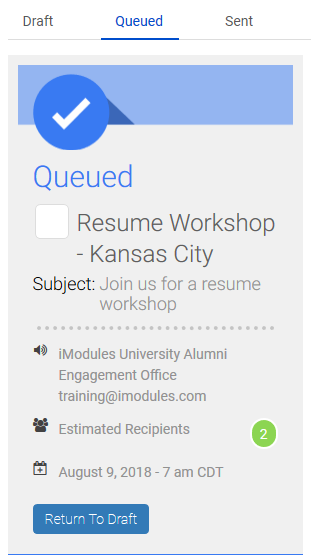 The only action that can be taken is to use the Return To Draft button. Once it is a draft, you can take additional actions.
Sent Emails
Once messages are sent, they will appear on the Sent area.

Gear Options
Depending on your administrative rights, you may not see all of the options shown below.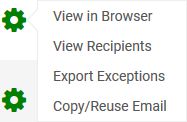 View in Browser - allows you to see what the message looked like.
View Recipients - will move you to an Email Reporting screen so you can view the recipients.
Export Exceptions - will export the exceptions so you can see why an intended recipient did not receive the message. Only Super Admins and Email List and Segment Managers will see this option.
Copy/Reuse Email - will create a new message and generate a Draft card.