The Send Preview step can be used to send a preview. You can also use the gear icon next to a template and select Send Preview.
Send Preview allows you to send a test copy of your email to up to 20 people. We recommend that you test how the message will look when received by mass market email services.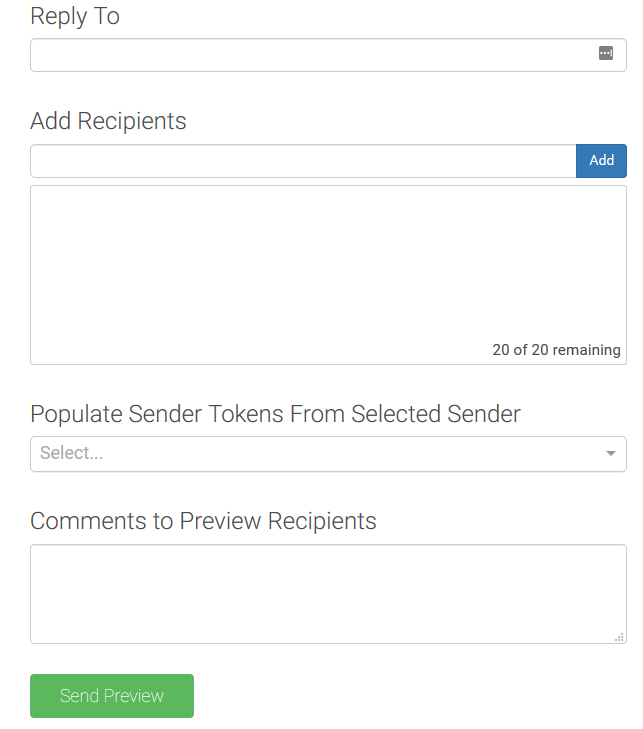 Reply To
Enter an address to receive replies to the preview email.
Add Recipients
Add email addresses for up to 20 people. You can press the Enter key or click the Add button.
NOTE - when sending from Email Home, you will automatically be a recipient.
NOTE - You can add multiple emails at one time if they are separated by commas.
Populate Sender Tokens From Selected Sender
Select a Sender Identity from the dropdown list so the Sender Tokens can populate. This option will only appear in the template creation area. If you are sending a preview from Email Home, the Sender Identity chosen in the Email Details will be used.
Comments
Comments can be added in the box provided.
Send
Click the Send Preview button.
Messages
A green "success" message will display once the preview is sent.
An informational" message will appear if there are missing tokens (Sender and/or Unsubscribe) that need to be addressed in order for the message to be released.
A red message will appear if there are buttons or links that aren't fully set up.
NOTE:

The preview email will be sent by noreply@imodules.com.
Gmail may not respect the Reply To address.