NOTE - only Super Admins will have access by default. Anyone else how needs access must be placed into the Email Template and Style Manager administrative right.
Accessing
From the Email menu, click on Template Editor in the far left panel/column.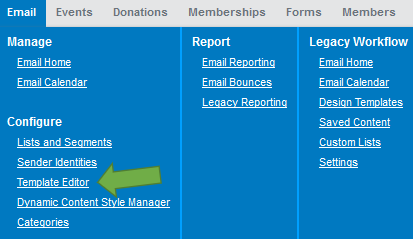 Layout

The grid will display all templates available within your community or GID.
There is a search option available. The search option will look across Last Edited By and the Name of the template. The list will filter to include matches.
The green gear icon provides an action menu for the specific template. For unlocked templates, the options are: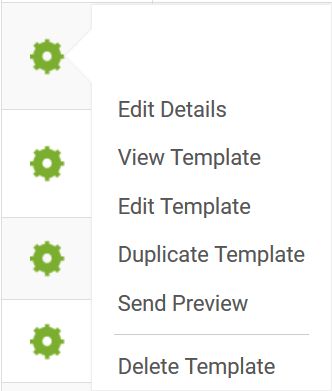 Edit Details: name and description
View Template: opens the template in a pop up window.
Edit Template: allows admins to edit the template.
Duplicate Template: allows admins to do a "save as" or copy of the template.
Send Preview: allows admins to send a preview of the email (up to 20 people).
Delete Template: permanently removes the template. It cannot be restored.
**NOTE: Templates with a locked icon cannot be edited or deleted. If you would like to make changes to a locked template, choose Duplicate Template from the green gear menu. This allows admins to save it as a new template that allows changes.
The following pages provide additional information:
Duplicate an Existing Template
Navigating in the Template Editor
Drag and Drop Element Descriptions and Instructions
Element Editing Control Descriptions and Instructions
Best Practices for Template Creation
Creating a Custom Event/Date Favorite