Accessing
From the Email menu, choose Email Reporting.
Fly Out Navigation 
The flyout navigation is accessed through an icon of three parallel bars - located in the upper left on the email reporting landing page. 


Flyout Navigation: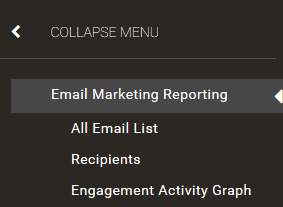 Filters and Opens by Device
The default date range is the last thirty days but this filter can be modified to a range of your choosing. Data before January 2016 cannot be retrieved in this view.
The subscription category filter auto-completes and you can only select one category filter at a time.
Opens by Device will show the top 4 device types and then aggregate the remainder into the "other" percent which also includes unidentifiable devices.
Device types include Mobile Phone, Mobile Device, Tablet, Desktop, and Other.
The Google mail app does not pass a user agent string so it can't be classified.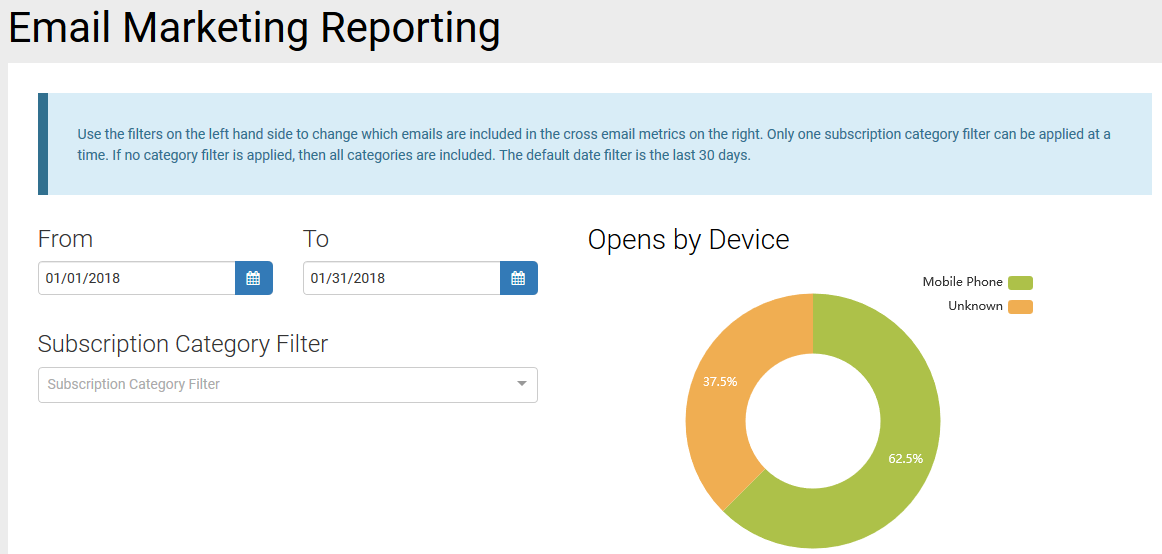 Cross Email Metrics
Definitions for new metrics are provided below including: Audience Size, Campaign Count, and Unsubscribes. (There is a known issue with Audience size which is causing it to be excluded.)
The filters discussed above will impact the metrics.


Recently Deployed Emails
For administrators who want to quickly view or compare the last five messages in a series.
The 5 most recent Email Marketing messages are displayed with summary metrics.
The messages shown will change based on the category and date filters applied (discussed above).
The Export Results button will create a csv file with metrics from the last 1000 messages that fit the dashboard filter.
Percents are included in unique export columns.
The columns included in this export are:
emailName
subjectLine
sentCount
scheduledDateTimestamp
delivered
deliveredPercent
bounced
bouncedPercent
opens
opensPercent
uniqueOpens
uniqueOpensPercent
clicks
clicksPercent
uniqueClicks
uniqueClicksPercent
initialClicks
initialClicksPercent
conversions
conversionsPercent
unsubscribes
unsubscribePercent
spamReport
spamReportPercent
NOTE: opensPercent may be over 100% due to duplicate opens. You may want to look at uniqueOpensPercent to get an understanding of the real open rate.

Exports
Exports in Email Reporting give administrators the ability to store and distribute performance metrics.
PNG
Clicking the camera icon on the grey footer downloads a PNG file to your computer that is a scaled snapshot of the reporting content page you are viewing. The PNG is great for printing, sharing as is, or cropping for inclusion in reports.
CSV
Clicking the blue "Export Table" button on any drill down report will download a CSV file to your computer. Columns and values represent all data in the results grid. The export includes limiting values to any search terms applied. Recipient details (name, constituent ID, iModules Member ID, class year) will be present in the CSV if the data is available in the results grid.
For more information, refer to the Email Reporting Exports Frequently Asked Questions.
All Email List
In near-real time without refreshing the page, newly sent emails will appear in the list.
A Search box is included so admins can find an email for which you would like to view metrics.
Recurring emails will display with a > next to them. Clicking on the name will move you to a roll-up report of metrics for the recurring email. Clicking on the > will expand the campaign and show the instances it was sent. Each date will be clickable.
Click an email name to view detailed metrics for that message.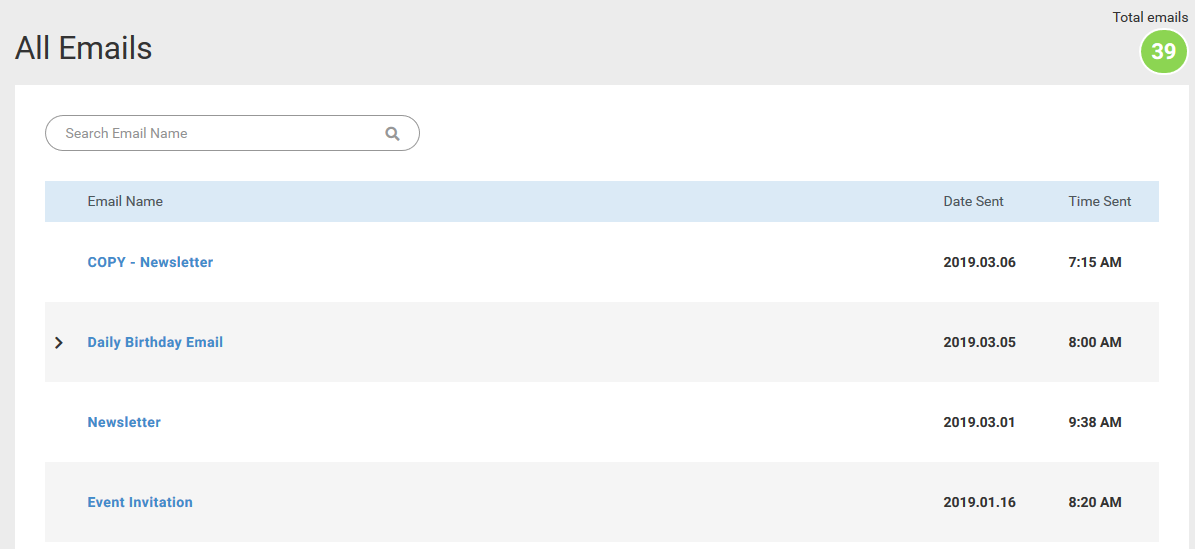 Email Detail View
Metrics appear as they are received, in near-real time without refreshing the page.
Displays two rows of key metric call-outs which highlight various counts and percents for an email.

Compare Open Rate to Peers links to the Engagement Activity Graph.
The formula for each donut chart rate is listed below the percent.
The key metric call-outs are clickable and resolve to drill-down reports. IMPORTANT: Drill down reports are only available for 460 days following the send date of the email.


Displays email details such as Email Name, Date Sent, and Email Category to provide context.
The Activity quadrant 

Highlights response metrics each hour after sending
Will show a graph of Opens By Device


Drill down reports will provide information on which Lists/Segments were used to build the Audience.

If the List/Segment has been deleted, a message will display indicating that the information can't be shown.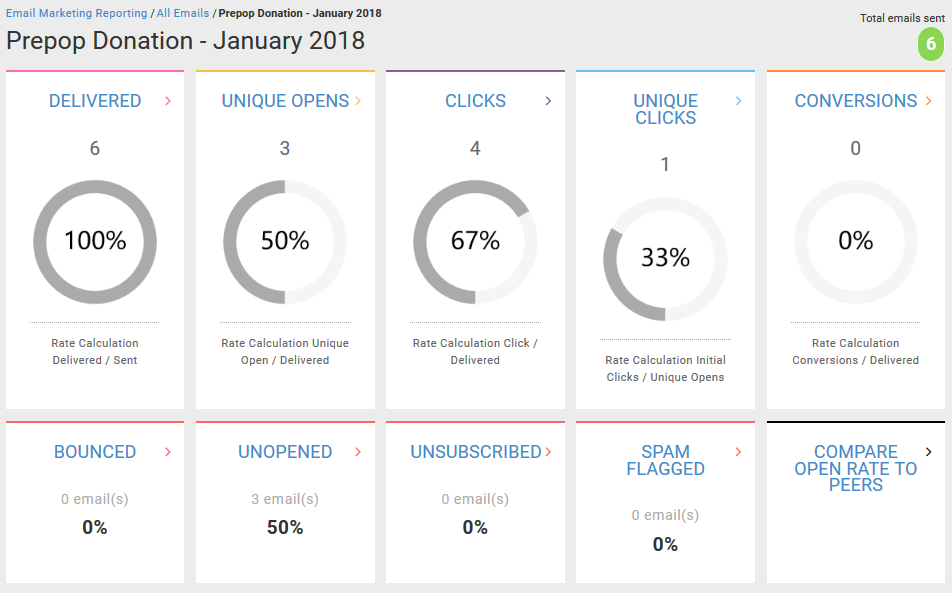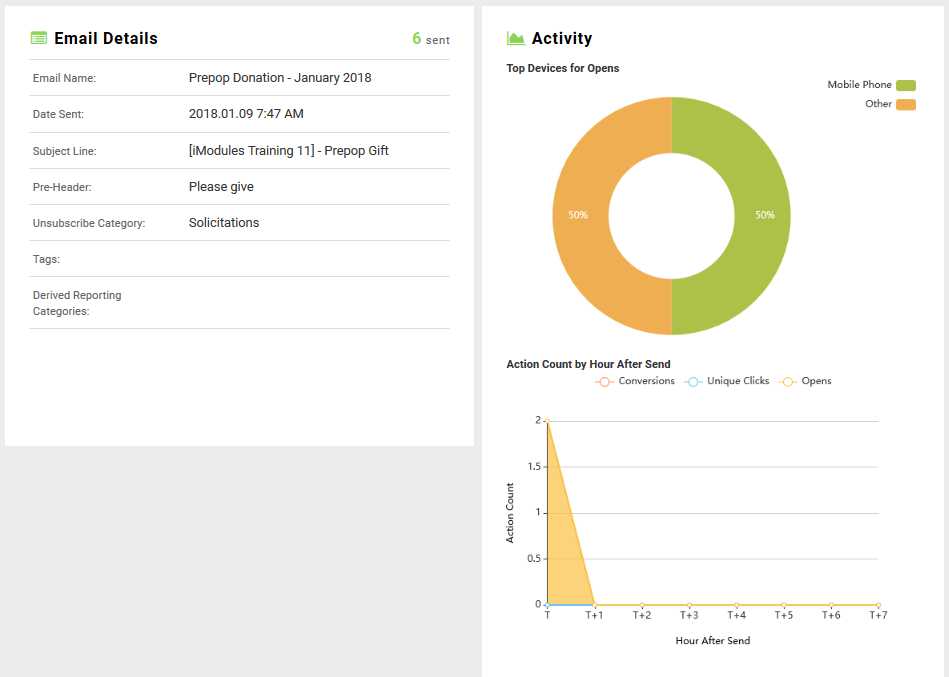 Reporting Metrics Definitions
Audience Size:
Sum of unique delivery actions for a given time frame on the cross email metrics dashboard. For audience size, a unique recipient is defined by the combination of iModules MemberID (MID) and email address.
There is a known issue with Audience size which is causing it to be excluded.
Adjusted Unique Click through Rate
Adjusted Unique Click through Rate = (initial clicks ÷ unique opens) * 100
This is a new metric
Bounce Rate
Bounce Rate = Total number of bounced emails ÷ Number of emails sent) * 100
Deferrals are EXCLUDED from bounce count since they will resolve to a bounce or deliver.
Campaign Count:
The sum of unique campaigns sent during a given time frame on the cross email metrics dashboard. For recurring emails, each recurrence is counted separately.
Clicks
Click = number of times any recipient clicks on any link within the email where tracking is active.
Click tracking on the unsubscribe link has been removed to prevent those clicks from influencing click rate.
The click date will be the date of the most recent click.
Click through Rate or Click to Delivery Rate
Click Through Rate = (Total clicks ÷ Number of delivered emails) * 100
This is a revised metric
Conversion Rate
What It Is: The percentage of email recipients who clicked on a link within an email and completed a desired action
Conversion Rate = (Number of people who completed the desired action ÷ Number of total emails delivered) * 100
This is a new metric
Delivered
Delivered = 200 response from server
This is a new metric
Note: Delivered DOES NOT imply inbox placement
Delivery Rate
Delivery Rate = ((Total number of delivered emails - bounces) ÷ Number of emails sent) * 100
DEFERRALS are EXCLUDED FROM DELIVERY RATE
Open Rate
Open Rate = (Total number unique opened ÷ Number of messages delivered) * 100
This is a revised metric
Opens
Open = tracking pixel loaded
Note: If click is logged but no open is present, open is added to statistics. In this way we adjust counts for when image blocking is in place.
Sent
Sent = Delivered + Bounces
This is a revised metric
Note: In future we plan to define this as UNIQUE Delivered + UNIQUE Bounces
Unique Clicks
The first hyperlink they click on is counted, but not any subsequent clicks of that link from the same message.
Initial Clicks
Initial clicks is the basis for a message's click to open rate.
It counts only the first hyperlink an individual clicks.
Unsubscribes
Sum of unsubscribe actions for a given time frame on the cross email metrics dashboard. If one recipient unsubscribes from multiple email categories each unsubscribe request is counted separately.
 Recipients
Accessed via the hamburger icon or one of the drilldown reports for a specific message.
Will show:

Email Address
First Name
Last Name

The data reflects messages and activity for the past 400 days.
Use the search option to find a specific individual.
Clicking on an email address will move you to a new screen. You will see email metrics for the individual you're looking at as well as the specific messages you sent this individual.
When viewing a drilldown report, click on the name of the individual you want to see metrics/information for.
The data reflects information for the specific site / GID you are in.
Email Reporting FAQs
Please visit the Email Reporting FAQ page for more information.