TABLE OF CONTENTS
Why use the News or Events Module?
Maintain content consistency, even with inexperienced content administrators or content creators
Reusable patterns allow advanced functionality on multiple pages quickly and easily
News content can be archived or published on a certain date
Events will automatically be removed once complete
Content can be pulled into emails, which can be patterned too!
Mobile-friendly patterns can be created by iModules but easily maintained by you.
NOTE: If you don't think News will provide the look and feel you want for your site, check out the Patternized Content Block functionality.
When could the News Module be used instead of content blocks?
To display a list of related content, each item in the list should have at least 2 of the 4 following pieces:
A title or headline
A related image (or thumbnail image)
Summary or preview text
A link to new or existing content (on your site or an external site)
Examples of Custom News Listings:
News Articles with Thumbnails (3 Across)

This layout is not available

by default but can be added

to your site by contacting

your Customer Success

Manager or

Customer Support.
More Uses to Consider:
Membership Benefits List
Featured Quotes from Alumni, donors, etc.
Frequently Asked Questions
Clubs, chapters or organizations list
With the power of patterned content layouts, you can quickly and easily manage lists of related content. This is especially helpful for sites using a hybrid or mobile-ready templates.
Applying Saved Listing Formats
When you first add a news listing

to a page, this is the default layout.

It displays the linked title and

summary text of each article.
Once the module is on the page, turn on Content Builder, then select to edit the module, so you can go into the module settings. Most admins are familiar with the first step of the news and events listing modules' settings, but we'll be using the second step.
This is where we can select a saved listing format (pattern) to apply or choose to modify it.
There are three parts of this step:
List of all saved formats (on the left).
Module Display Format Preview (on the right).


Remember: this preview does not display using your site's CSS, so don't worry if it looks "wrong"

The Edit the selected Module Display Format check box (bottom left).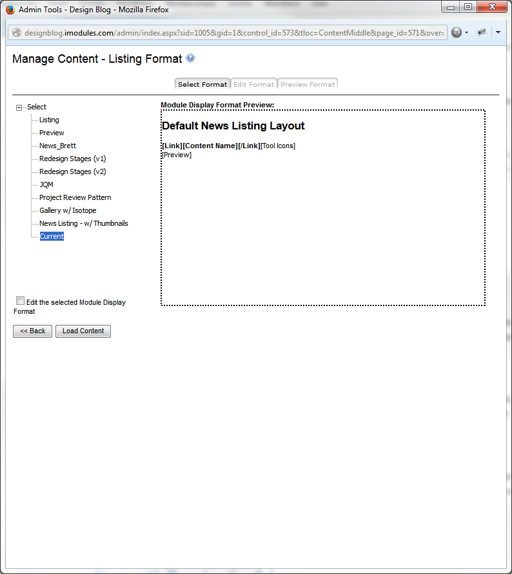 If you want to select a saved format, just pick the one you want from the left, and then click Load Content. (New patterns/formats can be created by you or created for you by contacting your Customer Success Manager or Application Support.)
This will load the saved pattern for you, so all your articles or events displaying in the module will be formatted with the selected pattern.
NOTE: You can have the same news listing type (set of articles) display with many different patterns across your site!
Helpful Links
For a full list of available tokens (news & events) and their output previews:
Module Tokens - Content Management
If you want to review any of the examples, be sure to check out:
…or contact your Customer Success Manager or Customer Support for more information about adding patterns to your site.