On the Email Marketing homepage, find the email you want to copy in the Released or Email History grid.  (This will not work with Draft emails.)
From the gear dropdown by the email, select View Email.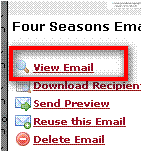 2.  When the e-mail opens, right-click on the email and select View Source (Depending on the browser you use, this may be called a slightly different name – such as View Page Source).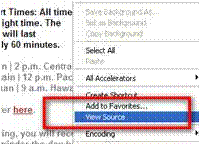 3.  A screen will open with all of the HTML that is encoded into that Email:

Starting where it says "<table style", select all of the HTML from this page.  DO NOT include the "html" or "body…." tags.
Select down to and including  the </ table> at the bottom of the page.  DO NOT include the "/body" or "/html" tags.

4.  Copy the HTML:  Press the CTRL+C shortcut to copy, or right-click on your selected text and click Copy. 
5.  Create a new page in your Site.  Add a new Content Block on the page.  In the new Content Block, select the HTML option at the bottom of the editor

Paste the HTML that you copied from the Email into the editor.
6.  Now you can use the URL of this new page and include it in new Email you are creating.
NOTE:  You cannot use the View Email on Site link for this as that link is specific to the recipient and Preview email links require admin authentication.