Anthology is invested in the usability and accessibility of all our products and services. In keeping with our strong tradition of leadership around accessibility, our products are generally designed and developed with internationally recognized Web Content Accessibility Guidelines (WCAG), as well as Section 508 of the Rehabilitation Act of 1973, as amended, in mind.  
Anthology strives to meet the globally recognized WCAG 2.1 Level AA success criteria and conducts regular accessibility testing of its products to assess conformance with industry standards. 
An accessibility conformance report (ACR) for Anthology Encompass can be requested by contacting your Client Experience Manager.
Anthology Encompass is unique in that it is highly customizable to fit the needs of individual institutions and departments. Our frontend design teams work closely with institutional administrators to create custom designed website tailored to the institution's needs.
Our frontend design teams are trained in accessibility principles and best practices and will provide advice to help institutions create a design that is as accessible as possible while still following the requirements of the institution. The Client has control of image content and form creation.
Semantic Structure and Navigation 
We recommend that pages in Anthology Encompass follow a standard visual layout to ensure familiarity as users navigate through the platform. The application can be structured logically by headings and landmarks. This gives users the ability to quickly understand the structure of any page in the application and easily move to the appropriate section of the page or content item. 
Headings and landmarks play a crucial role in web accessibility. Headings provide a clear and logical structure to content. They define the hierarchy of information on a webpage, allowing users to understand how different sections relate to each other. Screen reader users often navigate through a webpage using a list of headings. Properly structured headings allow them to quickly jump to relevant sections, making it much faster and more efficient to consume content. Clear headings also reduce cognitive load for all users. They provide visual cues that help users understand the content's context and flow, which is particularly important for long or complex pages. Our design teams recommend a single H1 to identify the current page, H2 headings to delineate major sections of a page, and H3 for further details.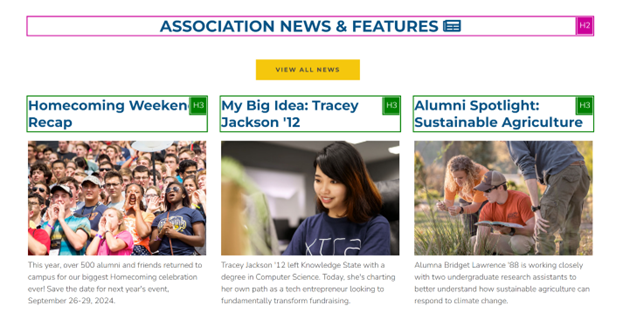 Our design team will recommend defined sections on each page using HTML and ARIA landmarks that allow users of assistive technologies to navigate the page more efficiently. With landmarks, users can quickly understand the structure of any page in the application, and easily move to the appropriate section of the page.
Proper use of headings and landmarks helps in creating webpages that are responsive and work well on various devices. This benefits all users, including those with different screen sizes or using mobile devices. 
Anthology Encompass' product team works continuously to implement operable features using the industry standard keyboard interactions. We consider the requirements for each component, enabling users to perceive and operate the functionality correctly. 
Keyboard navigation patterns differ between browsers (Microsoft Edge, Firefox, Safari, Chrome), but the interactions within any particular browser are common and consistent.  
Across the platform, Anthology Encompass includes a skip link as a mechanism to bypass blocks of content that are repeated on multiple pages — such as the header or navigation — allowing users to jump directly to the main content area. This feature enables keyboard-only and screen reader users to avoid repeated content and to navigate faster through the page.  
Users can tab until the "Skip to main content" link receives the keyboard focus or get a links list with the screen reader and select it from the list. 
Users can navigate the application sequentially using the keyboard. Interactive elements receive focus in the order content is visually arranged, preserving meaning and operability. 
To best support users with different device sizes and those with low vision, Anthology Encompass' pages reflow when the browser zoom is used to scale content to 400%. In other words, when zoom is enabled, the content will be presented in one column so that there is no need to scroll in multiple directions. The client would drive this requirement during the implementation of the frontend design of the site.
Throughout the product, Anthology Encompass was specifically designed to allow users multiple ways of interacting with the features and perceiving the content. For instance, when administrators are creating emails, they can type email addresses, import from a list, or design a query. To search previously sent emails, administrators can use the search, sort, or filter to easily find information. To support executive functioning skills, administrators can schedule future email campaigns. Templates and the ability to copy and paste previously sent emails can streamline the process while reducing cognitive load, the need for typing, and memorizing key details. Data reports are also available in multiple formats including Excel, PDF, and charts and data tables included in the product.
For end users of Anthology Encompass, the forms support browser autofill when possible, to reduce the need to remember or type identifying information. Institutions can add clear instructions to help users effectively navigate the stepped processes.
Assistive Technology Compatibility 
For the best experience with screen readers, we recommend these combinations: 
Given the customization available within the product, we encourage you to speak with your institution's Client Experience Manager and report any accessibility issues to Encompass Support.