To get started with Anthology Encompass mobile-friendly directory search features, fill out this form so the functionality can be activated on your site.
New Directory System Enhancement
Anthology Encompass has enhanced the Directory system to optimize it for viewing on mobile devices and to have an updated display. The new Anthology Encompass Directory system provides constituents an easy to use, mobile friendly option with configurable fields to be searched. The simple and advanced views of the current legacy system are supported with the Advanced Search option allows constituents to search on additional fields. The results returned are no longer displayed in a grid, but instead are displayed in a configurable pattern with a profile picture, key pieces of member profile data and a link to the constituent's mobile friendly profile page. The display of social icons and badges is also supported.
The configuration and installation of the new Directory system is done by Anthology Encompass personnel. When your institution is ready to move forward with converting your existing directory to the new Mobile Ready Directory system, please fill out the short form on the Client Community. Anthology Encompass will then contact you to to discuss your institution's conversion to the new Directory in Encompass.

Mobile Web-Optimized - When deployed with a Mobile Ready site design, the Directory results and member profiles are easily viewed on mobile devices with the search inputs and results display adapting to the screen size of the device being used.
Multiple Directories Per Site - Directories can be configured for different constituent groups in the same community. (This option may incur additional implementation fees. It will be scoped by an Anthology Encompass representative and agreed upon in writing prior to the commencement of work.)
Customized to your Organization
Choose the fields that you want displayed on simple and advanced searches
Define the fields to be used in the results pattern and the styles to be used
Determine the maximum number of results returned
Determine the number of results to display per page
Conditional Token Support - Conditional tokens display good results even if a data value does not exist for a token.
Patterned Search Results - You can decide the search results pattern that works best for your organization.
Custom Search Capability - The system enables Anthology Encompass to also provide custom search capabilities beyond the standard Member Directory and Career Center searches. (This option may incur additional implementation fees. It will be scoped by an Anthology Encompass representative and agreed upon in writing prior to the commencement of work.)
Results Display
The new mobile optimized results display uses a patternized system for displaying the information returned for each result. There are four standard results patterns that clients can choose from:
1. Default Results pattern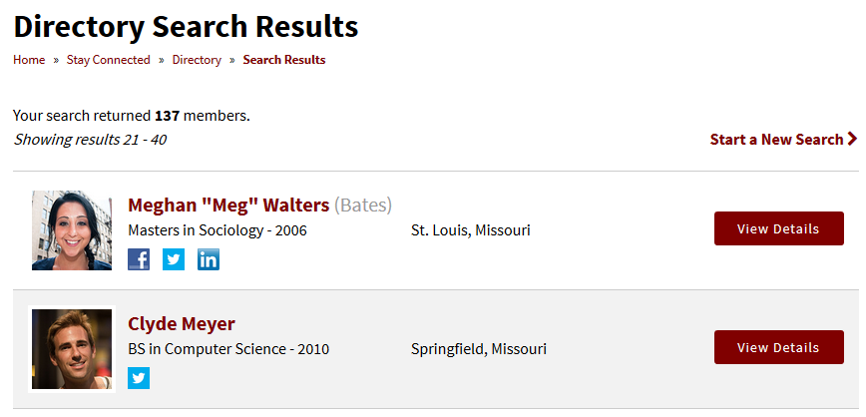 2. Pattern without details button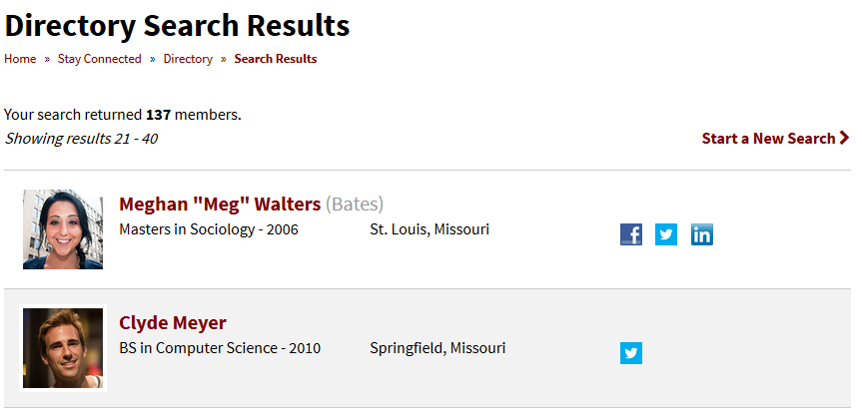 3. Pattern with no profile image

4. Grid View pattern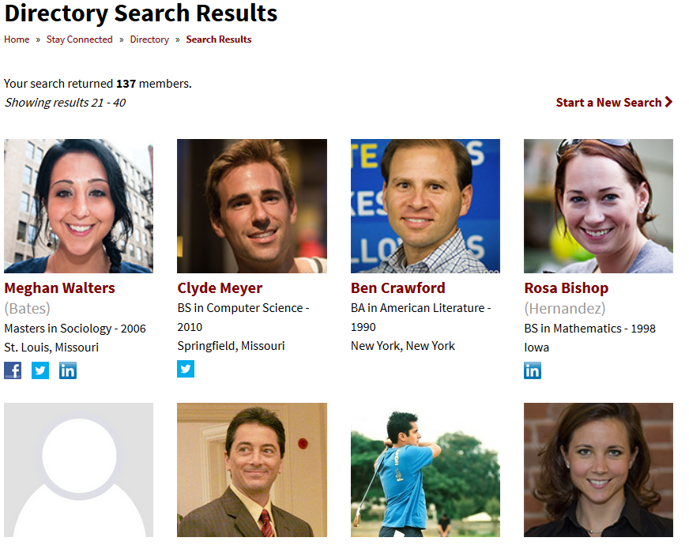 Modified Search
Instead of requiring the user choosing a filter for the search from a dropdown (contains, starts with, equals, not equal to), all filters will use "contains".

Once a user has searched for a member, the verbiage will not show "new search", instead they will be asked to modify the search.
Legacy Directory System
The current Directory with its columnar results display is still supported, but the column-based results display and its ability to sort columns is not supported in the new mobile-optimized Directory. Only the new patternized results display is supported in the new Directory system. Clients wanting to keep the current column-based display will need to remain using the legacy Directory system.